Concepts in Music Bundle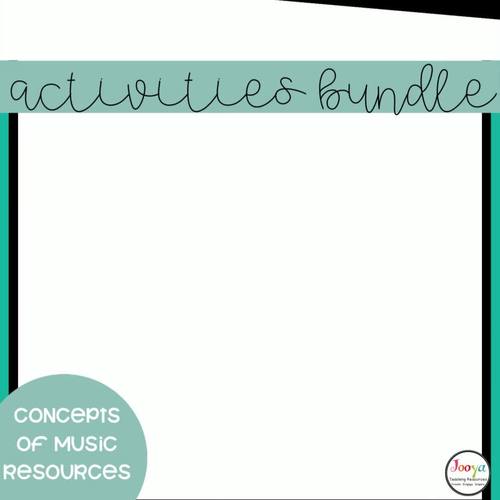 ;
Products in this Bundle (19)
showing 1-5 of 19 products
Description
This Concepts in Music Bundle printable resource will help your students learn about what are the 6 Concepts in Music. This collection of low prep music teaching resources will help you to teach everything your students need to know about what the 6 Concepts in Music. It has been designed to use with students in Grades 9 and 10 but can be used with older or younger music students.

Click here to stay up to date with new product releases from Jooya Teaching Resources.

The Concepts of Music Included in the Bundle:
Duration
Dynamics & Expressive Techniques
Pitch
Structure
Texture
Tone Colour

Included in each part of the Concepts in Music Bundle resource:
10 Suggested songs to listen to and study
Concept of Music Listening Acronym Poster
Mind Maps – colour and black and white
Concepts of Music Terms List
Music Term Cards
Listening Questions – 2 levels
Listening Comparison Questions- 2 levels
M.U.S.I.C. Writing About Music Scaffold
Sample Structure M.U.S.I.C. Paragraphs, and a link to a live demonstration of the paragraph in action
9 learning music terminology activities

Suggested uses for the Concepts in Music Bundle include:
For teaching students about the Concept of Music
Use the Term Cards for games, learning activities and revision of terms
Use the Mind Maps for learning about the Concepts in Music and listening activities
Use the Listening Questions for listening lessons, assignments, listening journals and more
Use the M.U.S.I.C. Writing About Music scaffolds to help students with developing their literacy skills, as part of an assessment or assignment, as part of a listening journal
Happy Teaching
Julia from Jooya

If you love this product, try these other great Concepts of Music Resources

Concepts of Music Bundle

Concepts of Music Mind Maps

__________________________________________________________________

Get value for money with TPT credits
After logging in, go to your My Purchases page. Beneath the title of each of your purchases you will see a "Provide Feedback" link. Simply click on the link and you will be taken to a page where you can give a rating and leave a detailed comment on how much you love the product. Each time you leave feedback, TPT gives you 5 credit points, 20 points equals $1 off your future purchase!

Become a follower by clicking the "Follow Me" green star near my store logo, this will let you know about any upcoming sales I am throwing, new product releases and freebies!

Teaching Duration
Lifelong tool
Report this resource to TPT