Concepts of Print (a set of 6 activities)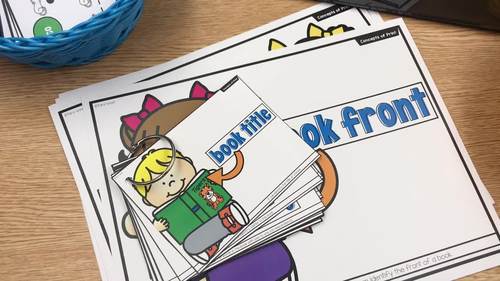 ;
What educators are saying
I used this at the beginning of the year with my kindergarteners in small groups. The activities are easy to prep and highly engaging. Well worth the investment!
One of my best/favorite TPT purchases ever! This resource is very engaging for students and has really helped my students better understand print concepts.
Also included in
* * * Questions? Click HERE to Instant Message me! * * *Wow! It's *FINALLY* here! Below I will detail out all of the information about by NEW VIP Bundle! EVERYTHING in this bundle is new, new, NEW! Are you ready to take the leap and become a VIP Bundle owner?! 1. Alphabet Centers Through the Year

Price $180.00

Original Price $336.00

Save $156.00
Description
* * This packet is part of the VIP Bundle! * *

* * * Questions? Click HERE to Instant Message me! * * *

What is the Concepts of Print packet?

The Concepts of Print packet gives you a set of 6 hands-on and engaging activities to practice concepts of print skills. The packet offers a variety of ways to cover the skills including posters, readers, trackers, and sorts. The activities can be used at the guided reading table, for whole-group instruction, intervention block, or as independent literacy center options.

* * VIEW A PREVIEW VIDEO HERE * *

What activities are included in the Concepts of Print packet?

ACTIVITY ONE: Concepts of Print Posters (book front, book back, book title, spine, words, letters, word tracking, left to right reading, identifying the first and last word, start and stop reading, return sweep, punctuation, pictures, author, illustrator) **15 posters included**

ACTIVITY TWO: Concepts of Print Readers (Picture version, letter version, word version, return sweep versions) **5 readers & matching trackers included**

ACTIVITY THREE: Concepts of Print Trackers (Sight word + color word based) **50 sentence builders included**

ACTIVITY FOUR: Concepts of Print Pocket Chart Sentence Builders (Look at Me, On the Bus, In the Bed, At the Farm, The Kid) **75 trackers included**

ACTIVITY FIVE: Concepts of Print Punctuation Clip Cards (Statements, Exclamations, and Questions) **60 clip cards included**

ACTIVITY SIX: Concepts of Print Sort (Letters vs. Words vs. Sentences) **150+ sort cards included**

Questions? Please email me at littlemindsatworkllc@gmail.com

Would you like to receive notifications for my newly released packets and upcoming sale? Be sure to FOLLOW ME here on TPT!
**Join my private Facebook Group to join fellow Pre-K, Kindergarten, First Grade and Second Grade teachers that use my curriculum! Collaborate, chat and share ideas with like-minded teachers! Join the private Facebook group H E R E!
Visit my blog Little Minds at Work
Follow me on Facebook
Report this resource to TPT