Conjugation Competition for Spanish One | Present Tense Regular Verbs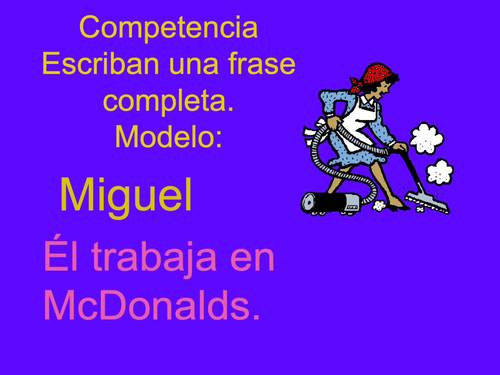 ;
Description
This is a fun game for the conjugation of the Spanish regular verbs in the present tense and subject pronouns. This 44-slide PowerPoint serves as a closure activity after teaching the form and meaning of infinitives and the conjugations of -ar,-er, and -ir verbs. It is an assessment tool but also engages the students because of the colorful visuals. A digital version is included for distance learning.
Each slide of the Conjugaton Competition PowerPoint for Spanish One gives the students a visual of the verb and a subject. Students compete to change the subject into the proper subject pronoun and the infinitive into the proper conjugation while writing complete sentences. Spanish Grammar PowerPoint
A Google Slides digital version for use in Google Classroom, other Google and digital platforms, and distance learning is also included.
This competition works in conjunction with the FREE PowerPoint, "Infinitives" which you will find here: Infinitives
*******************************************************************************************************
OTHER PRODUCTS THAT MAY INTEREST YOU:
Spanish Conjugation of Regular Verbs
Spanish Subject Pronouns PowerPoint
To receive freebies and notifications of new products, click on the following link to follow my store: ANGIE TORRE
For more engaging PowerPoints, resources, activities and ideas, please visit my website: www.bestpowerpointsforspanishclass.com, or my Pinterest Board: http://pinterest.com/asherbody/teaching-resources/ or, for a complete list of my products, CLICK HERE: My Store
Conjugation Competition by Angie Torre is licensed under a Creative Commons Attribution 3.0 Unported License.
Teaching Duration
30 minutes
Report this resource to TPT