Constitution Worksheets - Constitution Workbook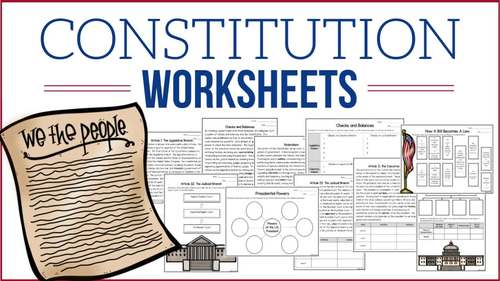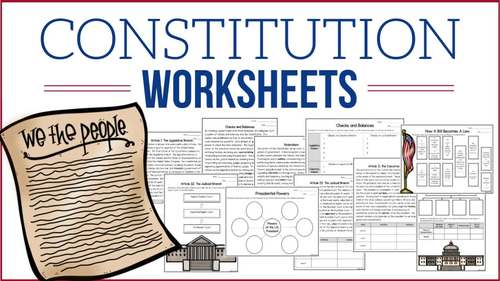 Created By
Literacy in Focus
Also included in
Everything you need to teach the US Constitution! Receive six ready-to-print lessons spanning the Articles of Confederation to the 27 Amendments and EVERYTHING in between!The following SIX Common Core aligned lessons are included with this product: Weaknesses of the Articles of Confederation Cause a
Product Description

Standards
Take the stress out of teaching the Constitution! Each worksheet focuses on a different aspect of the Constitution and includes informational text, vocabulary support, and a graphic organizer. The Constitution worksheets can be used independently or made into student workbooks. Answer keys are included for easy grading or use with a substitute.
~~~~~~~~~~~~~~~~~~~~~~~~~~~~~~~~~~~~~~~~~~~~~~~~~~~~~
WHAT TEACHERS ARE SAYING ABOUT THIS PRODUCT:
♥ I've been looking for a way to help my students understand the different parts of the Constitution and these lessons are amazing! I'm looking forward to using them in my class. They seem like the perfect lesson to help my 8th graders understand the different articles in a way they will remember! Thank you!
♥ Exceptional product!
♥ The charts really helped my students understand the content.
♥ Very organized and helpful.
♥ This makes the constitution easier to understand for kids!!
~~~~~~~~~~~~~~~~~~~~~~~~~~~~~~~~~~~~~~~~~~~~~~~~~~~~~
INCLUDED WITH YOUR PURCHASE:
• Constitution Worksheets: Each page focuses on a specific aspect of the Constitution, utilizing instructional scaffolding to meet the needs of all learners. The worksheets can be used independently or as a complete workbook. Informational text, vocabulary support, and a graphic organizer are included to ensure students understand the difficult concepts. Students will need access to a dictionary in order to define the vocabulary terms. The list below shows how the worksheets are organized.
The Preamble
Article I: The Legislative Branch
How a Bill Becomes a Law
Article II: The Executive Branch
Article III: The Judicial Branch
Checks & Balances
Federalism
Article IV: Relations Among States
Article V: The Amendment Process
Article VI: The Supremacy Clause
Article VII: Ratifying the Constitution
The Bill of Rights
Amendments 11-27
• Answer Keys: An answer key is provided for each worksheet.
~~~~~~~~~~~~~~~~~~~~~~~~~~~~~~~~~~~~~~~~~~~~~~~~~~~~
SAVE BIG WITH THE CONSTITUTION BUNDLE!
Everything you need to teach the US Constitution at one low price.
~~~~~~~~~~~~~~~~~~~~~~~~~~~~~~~~~~~~~~~~~~~~~~~~~~~~~
RELATED RESOURCES:
Weaknesses of the Articles of Confederation Task Cards – Cause and Effect
The Great Compromise- The Virginia and New Jersey Plans (Worksheet & Answer Key)
The Constitutional Convention (Worksheet & Answer Key)
The Preamble Close Reading, Task Cards, and More
Amendments Task Cards: "I Have, Who Has..." and "Who Am I?"
~~~~~~~~~~~~~~~~~~~~~~~~~~~~~~~~~~~~~~~~~~~~~~~~~~~~~
Want a FREE resource each month? Click HERE to follow Literacy in Focus, and you will be sent the monthly freebie!
Thank you!
©Literacy In Focus
to see state-specific standards (only available in the US).
Describe how a text presents information (e.g., sequentially, comparatively, causally).
Determine the meaning of words and phrases as they are used in a text, including vocabulary specific to domains related to history/social studies.
Identify key steps in a text's description of a process related to history/social studies (e.g., how a bill becomes law, how interest rates are raised or lowered).
Determine the central ideas or information of a primary or secondary source; provide an accurate summary of the source distinct from prior knowledge or opinions.
Report this Resource to TpT