Conversation Starters Boom Cards™ Bundle of Group Icebreakers Speech Therapy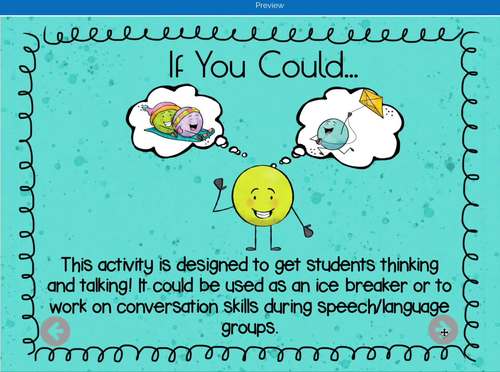 ;
Compatible with Digital Devices
The Teacher-Author has indicated that this resource can be used for device-based learning.
What educators are saying
Works well at the start of sessions. Also have used this with students working on turn taking and commenting in conversation.
Products in this Bundle (4)
Bonus
Link to Redeem entire BUNDLE with one click
Description
Are you looking for a way to practice conversation skills and get to know your students better? These questions could be used for ice breakers, brain breaks, morning meetings or filling a few minutes at the beginning or end of your session. You can practice conversation skills (answering questions, staying on topic, asking questions, taking turns) or practice speech sounds at the conversational level. They are appropriate for small groups or entire classrooms.
The following 4 Boom card decks are included in this bundle:
1. Favorite Things (30 Boom Cards): "What is your favorite season?", "What is your favorite dessert?", "What is your favorite color?"
2. This or That? Questions (30 Boom Cards): "Would you rather ride a bike or ride a horse?", "Would you rather play in the leaves or play in the snow?"
3. If You Could... (30 Boom Cards): "If you could make 3 school rules, what would they be?", "If you could have a superpower, what would it be?"
4. Let's Talk (30 Boom Cards): "Describe your perfect day", "What traits do you look for in a friend?", "What is the silliest thing you have ever done?"
______________________________
This bundle includes 120 questions (120 Boom Cards)
All of these activities can be purchased individually but you will save 20% off with this bundle!
Boom cards offer a fun interactive way for students to practice their speech and language skills. There is nothing to print because these digital games are completed online. See below for more information about Boom cards!
This link will take you to a free playable preview of this product.
Did you know?
When you leave feedback on your paid TPT purchases, you will earn FREE TpT credits! Simply go to your 'My Purchases' page and click on the 'Leave a Review' button next to each product. Each time you give feedback on paid purchases, TPT gives you credits that you can redeem for future purchases!
Click on the green ★ at the top of the page to follow the Pinwheel Speech store!
When you become a follower, you'll be the first to hear about freebies, sales, and new products. I also discount all new products 50% off the first 24 hours to thank you for becoming a follower!
Contact me with any questions that you have at pinwheelspeech@gmail.com.
Thank you so much for visiting my store!
Laura
-------------------------------------------------------
Let's connect!
About Boom Cards:
Boom cards are digital interactive cards that can be used on tablets, computers, laptops, interactive whiteboards and even phones! If you are new to Boom cards, you will need to sign up for a free account in order to use this product. Once you click on the redemption link, you will be taken to the Boom learning landing page. You will be asked to create an account and agree to their terms of use/policies. Finally, your product will be added to your Boom card library.
To use Boom Cards, you must be connected to the Internet. Boom Cards play on modern browsers (Chrome, Safari, Firefox, and Edge). Apps are available for Android, iPads, iPhones, and Kindle Fires. For security and privacy, adults must have a Boom Learning account to use and assign Boom Cards. You will be able to assign the Boom Cards you are buying with "Fast Pins," (play provides instant feedback for self-grading Boom Cards). Fast Play is always a free way for students to engage with Boom Cards decks. For additional assignment options you'll need a premium account. If you are new to Boom Learning, you will be offered a free trial of our premium account. Read here for details: http://bit.ly/BoomTrial.
Report this resource to TPT