Conversation Starters | Icebreakers | Morning Meeting Question Prompts | digital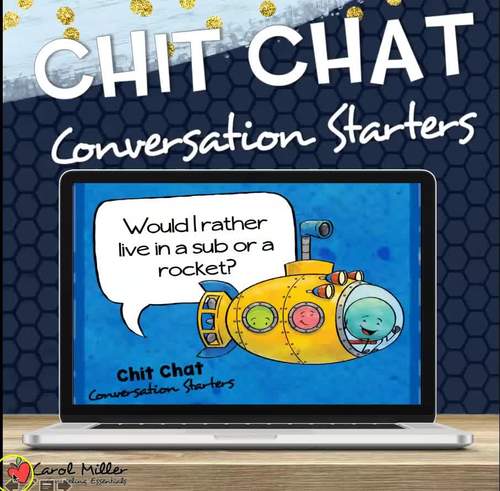 ;
Compatible with Digital Devices
The Teacher-Author has indicated that this resource can be used for device-based learning.
What educators are saying
I enjoy using this as an icebreaker and as a fun way to wrap up individual counseling sessions. I printed, laminated, and put them on a binder ring to keep handy.
These are great to use for counseling if you finish an activity early and have a few minutes left to chit chat.
Description
The Chit Chat Conversation Starters are fun icebreaker questions that can be used both in person and digitally. Two versions are included. A pdf version of cut apart cards and a google slides version that is perfect for virtual learning or to display on a smart board in the classroom. Icebreakers are a great way to get to know your students, build community, and generate a lot of laughs! Be sure to watch the preview video to see the digital slides.
Includes:
✔ 84 question cards
✔ 84 digital google slides with directions.
★★★★★★★★★★★★★★★★★★★★★★★★★★★★★★★★★★★★★★★★★★★★★★★★★★★★★★★★
Once you have purchased this resource don't forget to come back and leave feedback to help you gain some TpT credits! If you want to keep up to date with my sales, new resources, freebies and so much more click the green ★ next to my store name!
What are TpT Credits?
You can gain TpT credits by going back and leaving feedback on any purchases that you have made. The credits build up and then you can use them off future purchases - from any seller on TpT!
Report this resource to TPT