Count 1 to 10 Activity Center | My Counting Friends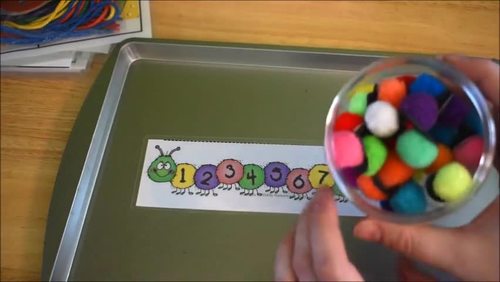 ;
Also included in
Ultimate Preschool Activity BUNDLE GROWING FOREVERThis is a bundle of some of Fun Hands-on Learning's most popular Preschool resources. This bundle is filled with engaging hands-on activities that will make for fun learning time & time again! Enjoyable activities for all subject areas, and stand

Price $137.00

Original Price $201.00

Save $64.00

Welcome to the GIANT Preschool Curriculum Bundle. This bundle consists of SIX full preschool curriculum/bundle sets! Get all of the Fun Hands-On Learning preschool experience in ONE BIG BUNDLE and SAVE$$ (30% off!).What Is Included?Hands-On 2 Learn Preschool CurriculumUltimate Preschool BundlePre-

Price $448.18

Original Price $640.25

Save $192.07
Description
Students will identify, use, & apply knowledge of counting numbers 1-10 with this engaging activity center. Teach basic math skills with active hands-on practice! This activity center employs the use of manipulatives to teach number counting, digit recognition, one to one correspondence, and number value identification.
IMPORTANT:
What will students learn/practice?
Identify, use, & apply knowledge of numbers & counting 1 to 10.
Understand that number digits represent number values.
Understand one-to-one number correspondence to 10.
Match number digits and values as well as number to number representations.
Actively use a hands-on activity to count & match numbers 1 to 10.
How Can You Use This Activity Center?
Math Instruction
Counting Skill Review
Number Recognition Skill Review
Follow-Up Practice
Instructional Application
Intervention Groups
One-on-one Tutoring
Assessment
Small Groups
Activity Centers
Early Finishers
Just For Fun!
What Do You Get?
--> PLEASE DOWNLOAD THE PREVIEW FOR MORE INFO!
Activity Center Direction Card
Caterpillar Counting Friend Strip Version 1 (color)
Caterpillar Counting Friend Strip Version 2 (color)
Monkey Counting Friend Strip (color)
Dog Counting Friend Strip (color)
Bunny Counting Friend Strip (color)
Mouse Counting Friend Strip (color)
Caterpillar Counting Friend Strip Version 1 (black & white)
Caterpillar Counting Friend Strip Version 2 (black & white)
Monkey Counting Friend Strip (black & white)
Dog Counting Friend Strip (black & white)
Bunny Counting Friend Strip (black & white)
Mouse Counting Friend Strip (black & white)
Report this resource to TPT