Countdown Timers Bundle - .mp4 Video Files for PowerPoint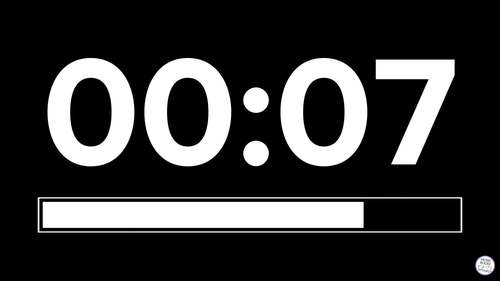 ;
What educators are saying
These were amazing to have easy access to add to slides. They were great visuals for at home learners to help manage time on tasks.
I include these in all my PowerPoint lesson plans. Great tool for students to manage their time. Such a great resource, I highly recommend purchasing!
Products in this Bundle (5)
Description
This bundle includes 20 countdown timers ranging from 1 minute to 60 minutes. Each .mp4 movie file is a countdown timer and progress bar that silently counts down to 0. It ends with sound notification, confetti, and the phrase, "Time's Up!". There is also a gentle beep that occurs to notify students that time is almost up.
Having timers that are large enough for everyone to see has changed my classroom! If you've never used timers, you'll be amazed to see how effective they are in keeping students on task! I use timers all the time - when students have 1 minute to finish an exit ticket, 2 minutes to collaborate, 10 minutes of game time, etc. The possibilities are endless!
These video files can be inserted into any PowerPoint or Keynote slide. You can view the video at full screen or scale it down to the size of your liking. It can also be played on any video player such as Windows Media Player or QuickTime Player. I personally embed them into my PowerPoint slides so students can see my directions and the timer on the board. I also prefer having video files over video links on the web so I don't have to deal with ads.
Terms of Use:
This free video is for personal classroom use only. You may not embed this within your own products to sell (free or paid) either here or on another site. You may not redistribute, edit, sell, or otherwise post this product on the internet. You may, however, post a link for others to purchase themselves.
Need timers for commercial use?
Commercial License Video File Countdown Timer (15, 20, 30, 40, 45 & 60 Minutes)
Report this resource to TPT