Counting to 10 Count objects Preschool Math | ABLLS R5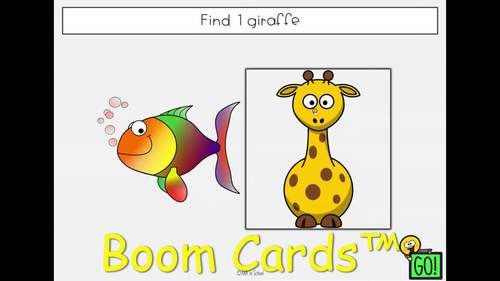 ;
6 boom decks, 1 google slides file, 10-pg PDF, task cards
Compatible with Digital Devices
The Teacher-Author has indicated that this resource can be used for device-based learning.
Description
⭐ Are you working on preschool math or special education math, counting to 10? Looking for some independent preschool morning work? This simple number sense activity works on counting to 10 in a systematic way, great for young students or students with disabilities, even toddlers learning numbers or homeschool preschool. Perfect for ABA or discrete trial training and table work!

This resource has both digital and print materials including 6 Boom Cards decks, an all-in-one Google Slides file, printable worksheets, and print-and-assemble task cards!

For a playable preview of the Boom Decks: CLICK HERE

⭐Resource includes:
✅ 6 Boom Decks
✅ 90+ slide Google Slides file
✅ 10-page printable PDF worksheet
✅ Color and black-and-white printable task cards
⭐Skills in Boom Decks and Google Slides broken down into:
✅ Count 1-3 out of 5 (prompted/errorless)
✅ Count 1-3 out of 5
✅ Count 4-5 out of 7
✅ Count 1-5 out of 10
✅ Count 6-10 out of 15
✅ Count 1-10 out of 15
⭐This resource is great for:
► ABA
► Special Education
► Autism, other disabilities
► Speech Therapy
►Toddler 
► Preschool
► Homeschool preschool
► Kindergarten
⚠️IMPORTANT: While the criteria for ABLLS R5 goes up to 30, this resource covers counting items 1-10. ABLLS-R® trademark is a registered trademark of Behavior Analysts, Inc.

✿✿✿CLICK HERE to follow me on TpT and see when new adventures come out!✿✿✿
✿✿✿CLICK HERE to stay up-to-date with ABA in School for new and updated resources for ABA, special education, data collection, and early learning.✿✿✿
✨You might also like:
► Numbers 1-10 and 0 Preschool Math Activities Digital & Print BUNDLE
► Preschool Social Emotional Learning Activities SEL Digital & Print BUNDLE
► Data Collection and Forms for Special Education and ABA DIGITAL & Print
► IEP Goal & Data Collection Tracking Sheets for Special Education Google Sheets
► Preschool Busy Book Toddler Learning Binder SIMPLE and CUSTOMIZABLE
⚠️ Sign up HERE to my newsletter to receive a freebie. I won't inundate you with email! About once a week and often a freebie is included.
♥♥♥ Earn TpT credit by leaving me a review on your MY PURCHASES page. For every dollar you spend, you will earn one credit that can be applied toward any of your future purchases. Every 20 credits earned equals $1.00. It's worth the extra minute! (and always appreciated)
♥ For Boom™ products
You must be connected to the Internet. Boom Cards play on modern browsers (Chrome, Safari, Firefox, and Edge). Apps are available for Android, iPads, iPhones, and Kindle Fires. For security and privacy, adults must have a Boom Learning account to use and assign Boom Cards. You will be able to assign the Boom Cards you are buying with "Fast Pins," (play provides instant feedback for self-grading Boom Cards). Fast Play is always a free way for students to engage with Boom Cards decks. For additional assignment options you'll need a premium account. If you are new to Boom Learning, you will be offered a free trial of our premium account. Read here for details: http://bit.ly/BoomTrial .

♥For Google Drive™ products
► You will need Google Drive™ in order to access this resource. Your students will also need Google™ accounts so they can access the activity if you are assigning to them.
► You must be logged into your account when you download the file. When you click the link, you will get a prompt, "Would you like to make a copy of…." Click Make a copy, and it will copy to your Drive.
► If your school district has TpT access blocked, you can choose to have the resource added to a personal Google™ account and then share it with your school account.
Please contact me via EMAIL ✉ if you have a question about this resource or experience a problem. You can also use the ASK A QUESTION tab on my TpT page or the Q & A tab before leaving your review. I will respond as soon as possible.
Copyright © ABA in School. All Rights Reserved.
The purchase of this resource gives the buyer permission to download and copy for single classroom or family use only. Electronic distribution is also limited to single use. Copying for other parents, teachers, school-wide use, or for school systems is only allowed with the purchase of additional licenses. These can be added to your account under "My Purchases" at a discounted price. Thank you for respecting my work.
Total Pages
6 boom decks, 1 google slides file, 10-pg PDF, task cards
Report this resource to TPT
Standards
to see state-specific standards (only available in the US).
Count to 100 by ones and by tens.
Understand the relationship between numbers and quantities; connect counting to cardinality.
When counting objects, say the number names in the standard order, pairing each object with one and only one number name and each number name with one and only one object.
Count to answer "how many?" questions about as many as 20 things arranged in a line, a rectangular array, or a circle, or as many as 10 things in a scattered configuration; given a number from 1-20, count out that many objects.