Covid Morning Meeting Greetings Choices Social Distancing Classroom Decor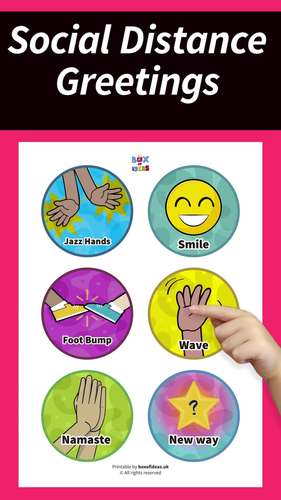 ;
What educators are saying
Morning greetings are so integral to making connections with students and these offer great socially distanced options.
Used this during a presentation of digital and in person morning meeting ideas. Can't wait to use it in the classroom.
Description
Start the covid 19 return to school season on the right foot. As one of your back to school activities, invite the children to point at a visual greeting chart with social distance morning greeting choice board to receive a warm welcome back to school from you (the teacher) or from a designated morning greeter (child). You know they love these types of classroom jobs!
Returning to school after lockdown can be challenging, and promoting ways to socialize and build classroom community in safe ways is important for the students' emotional well-being and mental health (and for the teacher's too!)
Since most social distance posters are telling students what NOT to do, why not include a fun poster in your classroom decor that invites them to interact with each other? Keeping themselves and others safe can be fun and friendly.
NOTE: This social distance greetings poster is included as a bonus in our original product: Morning Greeting Choices Chart for the Classroom
► How to use the Morning Greetings Choices for Back to School Distance Learning:
As one of your distance learning activities introduce a fun daily morning routine by empowering your children with a poster of greeting choices at the start of your Zoom class as virtual way to enter the classroom.
At the start of your live virtual meeting (with Zoom any platform that you are using), show the poster on screen so the students can choose how to greet you as they join in.
Do each greeting to the camera and ask the student to do the same. Here are the no-touch greeting choices that are included in the poster:
Jazz Hands
Foot Bump
Namaste
Smile
Wave
New Way (anything distance-friendly that the children come up with)
If you need more ideas of social distancing greetings for kids, please check our blogpost about it. There, you have more than a dozen different contactless greetings options to choose from.
_________________________________________
New product: Animal Art Projects Packet
_________________________________________
The poster includes 6 different types of greetings for the students to choose from: Jazz Hands, Foot Bump, Namaste, Smile, Wave, New Way.
_________________________________________
You might like: Recycled City (Community Building Activity)
_________________________________________
► 10 Reasons to use a Greeting System with a Greeting Choices Chart in your Preschool and Kindergarten Classroom:
Support children that speak a different language (EAL).
Make everyone feel welcomed in your classroom.
Let the children experiment with different ways of social interaction.
Make the classroom more inclusive for children with learning difficulties.
Empower children to make their own choices.
Encourage interaction amongst all of your students (and with yourself, this is great as a Meet the Teacher activity).
Help children have a small boost in their self-confidence.
Set a positive tone in your students right from the start of the day.
Strengthen relationships amongst your students.
Promote a safe classroom culture.

► Videos of teachers using a Morning Greeting System
See a compilation of video examples of teachers using a morning greetings system with their students: https://boxofideas.uk/greetings
_______________________________
► Other teachers are also loving:
_______________________________
►Please read before purchase:
The download includes two JPG files in high resolution (A4 paper size) with the following:
1 JPG "Social Distance Morning Greetings Chart" with illustrations of these different types of greetings: Jazz Hands, Foot Bump, Namaste, Smile, Wave, New Way.
1 JPG  "Good Morning" sign that looks very nice placed on top or next to with the greetings chart.
_______________________________
► Earn TPT credit to use on future purchases:
Go to your My Purchases page on your TpT profile.
Select 'Provide Feedback'.
Leave an honest rating with a short comment for this product.
That's it! have fun spending your TpT credit :)
Click here to Follow my TpT store and catch new products at a reduced price for the first 48H.
Report this resource to TPT
Standards
to see state-specific standards (only available in the US).
Demonstrate understanding of the organization and basic features of print.
Follow words from left to right, top to bottom, and page by page.
Recognize that spoken words are represented in written language by specific sequences of letters.
Understand that words are separated by spaces in print.
Read closely to determine what the text says explicitly and to make logical inferences from it; cite specific textual evidence when writing or speaking to support conclusions drawn from the text.