Crafts for Speech Therapy: Winter Mitten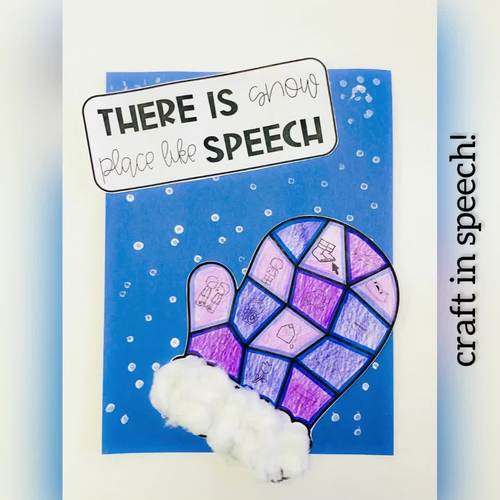 ;
Also included in
Target TONS of articulation and language goals with these simple print, color, cut and glue Seasonally Themed worksheet crafts. Upon completion of these craftivities with a group, all will be unique creations, perfect for a bulletin board outside your room! This simple worksheet turned craft is a gr

Price $37.60

Original Price $47.00

Save $9.40
Description
Target TONS of articulation and language goals with this 84 page simple print, color, cut and glue Winter Themed mitten craft. Upon completion of this craftivity with a group, all will be unique creations, perfect for a Winter themed bulletin board outside your room! This simple worksheet turned craft is a great minimal prep activity for this time of year.
I love functional crafts in speech therapy! Working on following directions that students hear frequently throughout their day is a necessary skill. Cutting "around" and not "across" could mean the difference in creating or destroying their beautiful masterpiece resulting in a frustrated teacher and student.

Parents request activities to work on at home. These can be hung on the refrigerator and reviewed often! There is a bookmark to send home with words targeted on the day of therapy. Save the cute crafts for a bulletin board and send home for a second activity a couple of weeks later.
These speech and language craftivities that are perfect for MIXED GROUPS require minimal preparation but allow for multiple repetitions and extension activities. This Winter themed craft is a great accompaniment to Mitten and Winter themed books such as or , or make a speech and language activity with games like the Thin Ice.
⚠️View the preview for the full table of contents and instructions.⚠️
Included with this 84 page download is:
✅ Early developing sounds in initial, medial, and final position of words printed directly on the mitten portion of the craft. Pictures included with each word for emerging readers.
✅ Later developing sounds in initial and final position of words. Pictures included!
✅ Language target pages include action words, adjectives, categories, plurals, synonyms and antonyms, multiple meaning words, seasonal vocabulary and associations!
✅ A blank mitten page is included for any open ended activities!

This activity will look AMAZING hanging outside your room or on the refrigerator!
Laminate boards printed on brightly colored paper and use them in a sand "SNOW"/ table for young students who may not yet color. They look amazing with watercolors as well!

More craftivities available!
➜ Spring Speech and Language Craftivity: Bird's Nest
➜ Summer Speech and Language Craftivity: Speech Pops
➜ Speech and Language Snowman Craftivity
➜ Articulation Craftivity: Candy Cane Craze
➜ Spring Speech and Language Craftivity: Splash!
➜ Summer Speech and Language Craftivity: Surf's Up in Speech Therapy
Report this resource to TPT