Create Your Own Color by Answer Digital Resource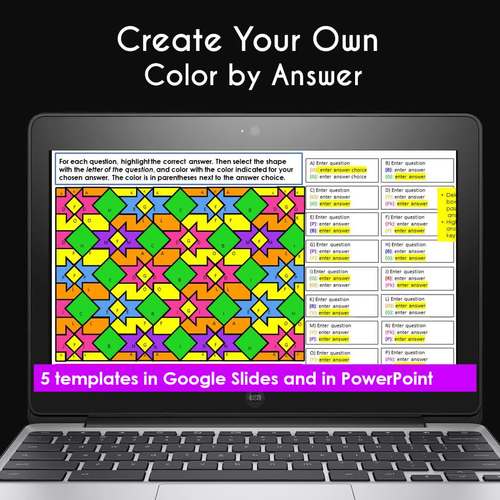 ;
Zip

Google Apps™
5 PPT files, 10-pg PDF w/links to Google Slides and instruction video
Includes Google Apps™
The Teacher-Author indicated this resource includes assets from Google Workspace (e.g. docs, slides, etc.).
What educators are saying
My students have loved using Color By Numbers as a form of review. They have come to expect them towards the end of a unit and now this has let me create SO many more. Thank you!
Loved loved loved that I could personalize this to what each group is learning. Easy to use! Thank you.
Description
Creating your own color by answer makes it easy to create the perfect assignment for your students!
These templates are in both Google Slides and PowerPoint and can be used for any subject!
Check out the Preview above to see what's included and check out the video to see how the templates work (students will need to know how to use the "Fill color" feature).
This resource includes a zip file with:
PDF with 5 Links to 5 different Color by Answer Templates in Google Slides
Detailed instructions are included for how to create your color by answers from the templates (in PDF)
Instruction video (link in PDF)
5 PowerPoint (365) files, each with one template (same templates as Google)
Creating Your Own Color by Answers:
Great for any subject, but I recommend using questions that are relatively short and have short answers – the text box sizes are limited.
When you create the activities, you'll need to add 16 questions, with 2 answer choices for each.
Using the Color by Answer:
Students view in Edit Mode in Google Slides.
Students answer the 16 questions and highlight their answer choices.
Students find the answer letter in the coloring section and use the 'Fill color' feature to color the shapes.
The questions and answers are editable, but I've included instructions for how to create a PNG background, if you don't want students to be able to change anything in the questions/answers.
You can assign your new color by answers in Google Classroom, so each student has their own copy.
Students can interact with the PPT files in the same way they can the Google Slides (in case you don't use Google files) – they highlight their answers, select the shapes, and use the 'Shape Fill' to color.
For classroom use only.
Check out more templates, in Google Sheets.
Please keep in touch by following me, to be notified when new products are uploaded! Products are 1/2 off for the first 24 hours, so it pays to follow!
You might also like:
6th Grade Math Resource Bundle - resources for the entire year.
Common Core Daily Math Warm Ups for Grade 6
Create Your Own Color by Answer, Pixel Art
Total Pages
5 PPT files, 10-pg PDF w/links to Google Slides and instruction video
Report this resource to TPT