Creative Activities for Any Text, Printable & Digital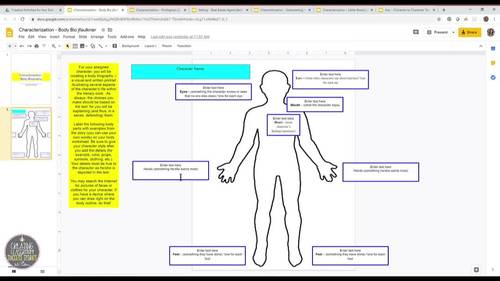 ;
Zip

Google Apps™
Includes Google Apps™
The Teacher-Author indicated this resource includes assets from Google Workspace (e.g. docs, slides, etc.).
Also included in
Grab your favorite novel and you'll be set with this bundle of creative and rigorous tools for teaching, analyzing, and assessing literature. You'll have everything you need to enjoy any piece of literature throughout the year at your fingertips. Your students will love the variety and interactive

Price $21.99

Original Price $29.46

Save $7.47
Description
Make any text (poem, play, short story, novel, even literary nonfiction) come alive with this fun, creative, real-world based set of NO PREP assignments that teens will love! Each activity is a quick, classroom-tested, text-based project/activity that measures students' comprehension and analysis of a specific standard.
Student Experience: Each modern, original real-world inspired activity is designed specifically to measure comprehension of an ELA standard with clear directions for you and the student on eye-catching printable and digital worksheets. Each file is organized and clearly labeled for you. Your kids will love the modern, hands-on connections, and you will love they are purposefully working on specific skills in class, literature circles, books clubs, and more. Students will be on task for the entire period working on ELA skills and getting those creative, higher-order, critical-thinking juices flowing!
Get this in my Literature Resources, Build Your Own Book Club Bundle!
Included:
Theme - Ipod Soundtrack
Plot - Post Big Game TV Interview
Plot - Talk Show Interview with the Stars
Conflict - In Their Shoes Billboards
Conflict - Crime Scene Investigator Police Report Sold Separately Here
Conflict - Physician's Report Sold Separately Here
Characterization -Body Biographies Sold Separately In My Characterization Teaching Pack Here
Characterization -Collage Poem
Characterization -Collage Selfies
Characterization - Sub-tweeting on "Twidder" (Villains)
Characterization - Finstagrams
Setting - Featured Property Website Page
Irony - Making a Meme (requires computer/internet access) Sold Separately Here
Point of View - T-Shirt Designer
Purpose/Character Motives - QVC Salesperson
Any - Character to Character Text Message
Any - "Twidder" Summaries, Character Messages, etc.
Any - Letter Boards
**Each activity is provided here in digital format for Google with its own force copy link, so there is no extra work for you to do. They are all conveniently isolated links for one activity at a time.
** FREE UPGRADES FOR LIFE!!
Fun idea for the "letter board" activity with The Great Gatsby > Click Here.
Classroom success stories from teachers who have tried these activities:
♥ "You definitely have a talent in finding topics that pique the students' interest. I love everything you put out. Since I'm new to this grade level, I am finding so many resources in your store that I can use. Thanks for sharing!"
♥ "These are some of the best activities I've seen for elements of literature! Thank you so much!"
♥ "Wonderful ideas to spark interest in discussions of works students find old and boring."
♥ "You are my favorite TpT shop! This is such a great resource. You have provided so many relevant activities I will be using them for years!"
♥ "These activities gave me some more new and fresh ideas to add to my choice boards for the novels that I am teaching now. My students were engaged and enjoyed creating these assignments. They really put so much effort into their work."
♥ "I love using these to add variety into the students' independent reading assignment. The students also thought they were unique and fun. Thank you!"
♥ "Such a captivating packet of lessons! Any lesson that is creative and engages students without being "busy work" is worthy of 4 stars in my opinion!"
♥ "Wonderful ideas! I thoroughly loved reading the CSI report, t-shirts, & iPod activities that I assigned my different classes. Thank you for your creativity and thoughtfulness!"
Be the first to know about my new discounts, freebies and product launches. Look for the green star next to my store logo and click it to FOLLOW ME. Voila! You will now receive email updates about my store.
For more ideas and inspiration:
Julie's Classroom Stories on Instagram
Julie's Classroom Stories on Facebook
Teaching Middle and High School English Facebook Group
Yearbook and Journalism Facebook Group
Terms of Use: Please one classroom use only. Not to be shared online without proper security. Additional licenses sold at a discount at checkout. All art and images credited inside file. Updated 2020
Answer Key
Does not apply
Report this resource to TPT
Standards
to see state-specific standards (only available in the US).
Read closely to determine what the text says explicitly and to make logical inferences from it; cite specific textual evidence when writing or speaking to support conclusions drawn from the text.
Determine central ideas or themes of a text and analyze their development; summarize the key supporting details and ideas.
Analyze how and why individuals, events, and ideas develop and interact over the course of a text.
Analyze the structure of texts, including how specific sentences, paragraphs, and larger portions of the text (e.g., a section, chapter, scene, or stanza) relate to each other and the whole.
Assess how point of view or purpose shapes the content and style of a text.