Creepy Carrots, Underwear & Crayon BUNDLE | Book Companions with Crafts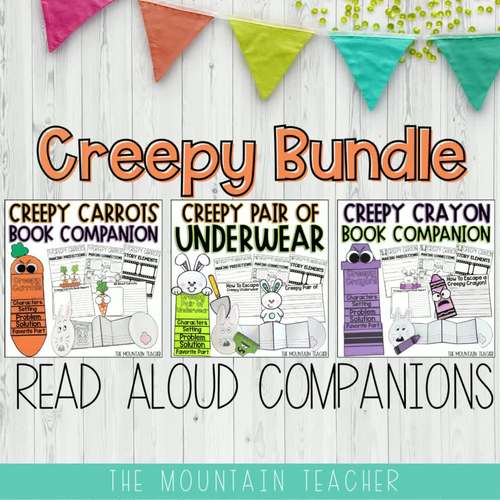 ;
What educators are saying
I used it for one book. It was easy to use, no prep. Kids were engaged. I can wait to use the other ones in the package
My students loved using this resource. We used the Creepy Carrots set and now will be starting the Creepy pair of Underwear. They're so excited!!
Products in this Bundle (3)
Description
Creepy Carrots, Creepy Pair of Underwear and Creepy Crayon are Halloween read aloud favorites! Take Creepy Carrots activities to the next level with these CREEPY sequels, crafts, reading responses, writing prompts and worksheets. These reading and writing activities are all differentiated for K-3.
Please note, you will need a copy of each book (Creepy Carrots, Creepy Pair of Underwear and Creepy Crayon) in order to use this resource.
Suggested Timeline:
Week 1 - Creepy Carrots Activities
Week 2 - Creepy Pair of Underwear Activities
Week 3 - Creepy Crayon Activities
Each book can also be taught in one single day or together.
EACH Creepy Companion INCLUDES All of the Following:
(This means you will get all of the following for Creepy Carrots, Creepy Pair of Underwear and Creepy Crayon)
* 7 reading response activities:
Making Predictions
Answering Questions
Story Elements (Character, Setting, Problem, Solution)
Making Connections (text to text, text to self, text to world)
Character Changes
Compare/Contrast
Favorite Part
* 2 reading crafts:
Story Element Carrot Flip Book
First, Then, Next, Last Jasper Flip Book
*4 writing prompts and crafts:
Narrative
Informative
Opinion
How To
*5 FUN word work and writing activities:
Unscramble Words
Word Search
Decoding Words
Make a Word
Directed Draw & Write
Answer keys are included for most pages. Pages in which many answers could apply do not have answer keys.
All reading and writing pages are differentiated to include:
Traceable sentence stems
Fill in the blank sentence stems
Long answer blank replies
These activities are PERFECT for whole group reading, reading centers, holidays, substitutes, student teachers, parent read alouds, morning work, independent work, small group reading and more.
Stretch these out for a week, or use all of the activities to fill a slow morning. With so many options and differentiated versions, the possibilities are endless.
Grab the Thanksgiving Read Aloud Companion BUNDLE or
Check out these other fun FALL read aloud companions:
Please ask all questions before purchasing. Are you looking for a different book? Email me at themountainteacher@gmail.com to put in a request!
Teaching Duration
1 month
Report this resource to TPT
Standards
to see state-specific standards (only available in the US).
With prompting and support, ask and answer questions about key details in a text.
With prompting and support, retell familiar stories, including key details.
With prompting and support, identify characters, settings, and major events in a story.
With prompting and support, describe the relationship between illustrations and the story in which they appear (e.g., what moment in a story an illustration depicts).
With prompting and support, compare and contrast the adventures and experiences of characters in familiar stories.