Cuando era niño - Spanish Childhood Imperfect Writing & Speaking FUN - Imperfect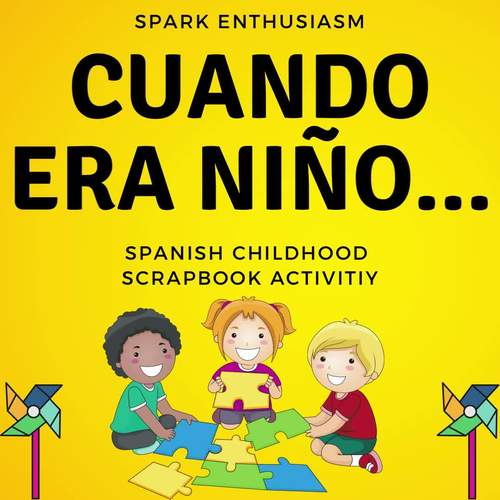 ;
6

th

- 12

th
,
Higher Education
,
Adult Education
,
Homeschool
Description
This 16 pages & slides EDITABLE Spanish ALL ABOUT MY CHILDHOOD can be used for online learning as well as in face-to-face classroom settings.
Students share their fond memories from when they were little and the whole class comments and learns from each other! This unit reinforces the use of the Imperfect verb tense while maintaining a sense of community for the students and teacher! infancia, niñez, juguetes, películas, programas de televisión, jugar, mascotas, amigos, juegos, comidas favoritas
This Spanish Cuando era niño Unit includes:
~ Templates and instructions for students to write a childhood composition and create illustrated slides or a poster to share. Word docs, pdf versions and Google docs are all included.
~ There are teacher tips and a list of useful childhood expressions and vocabulary expressions and verb endings for students.
~ We have also included two illustrated childhood presentations to use as examples.
~ We have included a questionnaire about the childhood compositions that your students can fill-out to comment on or chat about their classmates' presentations or posters. We have included the word doc, pdf and link to a Google Doc.
*With the Google Docs link, go to File, make a copy and save it in your Google drive. Then you will be able to edit it for your students. :) Let us know if you have any questions.
This series of lessons is useful for anyone who is teaching face-to-face in a classroom, online Spanish, a flipped classroom or those that are affected by the cancellation of school due to unforeseen circumstances such as the Coronavirus.  Distance learning Online Spanish class Elearning Virtual Spanish lessons
For additional high quality Back to School resources, please visit BACK TO SCHOOL
ALL of our movie packets with tons of resources are here! ALL sparkenthusiasm movie guides
Follow us on Pinterest for excellent ideas and resources!
Visit our Spark Enthusiasm Spanish Store for other high quality ideas and products for your Spanish classes.
Have a great school year!
Visit our Spark Enthusiasm Spanish website!
Answer Key
Does not apply
Report this resource to TPT