Cultural Sports SPANISH Interactive Power Point & Videos -Deportes, Copa Mundial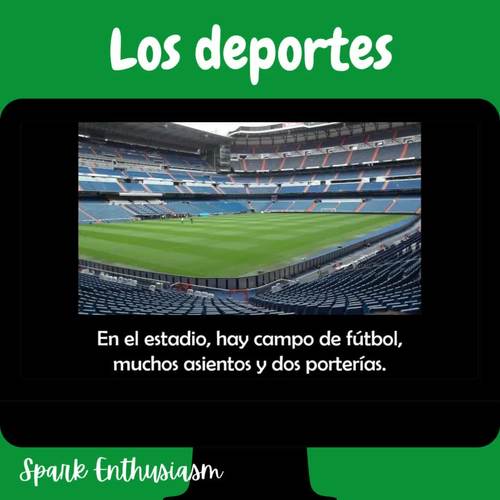 ;
Also included in
Use this awesome Deportes Bundle to teach Sports to all levels of Spanish classes! There are Interactive Lessons, Google Slides Presentations, Power Points, Notes, Quizzes, Practices, Games, Digital Activities, Printable Activities, Worksheets, Videos and more! There is an entire movie unit with cu

Price $35.96

Original Price $44.95

Save $8.99
Description
Do you need some high interest Cultural Sports lessons that motivate your students to communicate about their favorite teams and sports? This amazing Spanish Deportes Power Point Presentation teaches important sports vocabulary while educating students about the cultural aspects of sports in Spanish-speaking countries! This illustrated cultural deportes presentation includes information and embedded videos about bullfighting, los Sanfermines, famous Hispanic and Latino athletes, soccer, the World Cup, the Olympics, professional baseball, jai alai, lucha libre, tennis, football, and so much more!
This sports presentation includes beautiful photographs and is easy to understand by Spanish students. At the end of this presentation, there are several interactive partner and group questions to encourage students to use Spanish conversationally and to check for understanding.
Included in this presentation are 15 video links that show the cultural significance of sports in the Spanish-speaking world. This presentation is an excellent addition to a stem-changing (shoe, boot) verbs unit.
Also included is a list of sports vocabulary in Spanish and English. There is a Word document and a PDF. We have also included a list of Additional Sports Videos and Resources. Feel free to modify this lesson and presentation to best meet the needs of your classes. This is a perfect no-prep lesson for your Middle School Spanish, Spanish 1, Spanish 2, Spanish 3 and Spanish 4 classes!
Topics included are fútbol, béisbol, fútbol americano, jai alai, las corridas de toros, baloncesto, la Copa Mundial, tenis, Rafael Nadal, Óscar de la Hoya, Messi, Cristiano Ronaldo, los Juegos Olímpicos y más.
Teachers Like You Are Saying:
⭐⭐⭐⭐⭐ EXCELLENT! This power point is adorable, well done, and a great way to teach sports and culture together! Thank you for always providing high quality products!
⭐⭐⭐⭐⭐ I love how this covers a wide variety of sports! We enjoyed this!
⭐⭐⭐⭐⭐ Love your work!
Additional Sports Resources for Your Spanish Classroom:
Spanish Digital Sports Unit - Los Deportes, Corrida de toros, Gustar, Shoe Verbs
Sports Vocabulary Activities and Games Unit in Spanish (Los Deportes)
Goal The Dream Begins Movie Packet in Spanish/Gol El Sueño Imposible
Spark Enthusiasm Spanish Grammar, Vocabulary and AP resources
ALL of our movie packets with tons of resources are here!
ALL sparkenthusiasm movie guides
Let's connect! We would love to hear from you!
Have a great school year!
Answer Key
Does not apply
Report this resource to TPT