Cursive Writing Practice Pages and Instructional Videos for 2nd and 3rd grade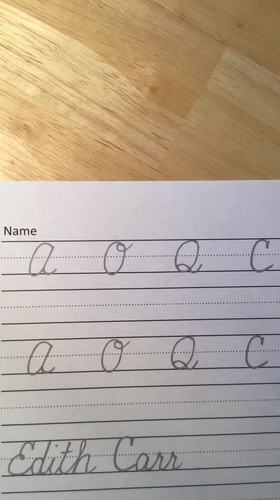 ;
123 pages and 82 video links
Also included in
This curriculum provides independent cursive instruction and practice for the entire year. Students watch You Tube videos that clearly demonstrate the formation of each letter and how to connect the letters to other letters.Students are not practicing a skill without instruction!Often students are g

Price $90.00

Original Price $177.50

Save $87.50
Description
Let me teach your second or third grade class cursive writing! These practice pages combined with the videos allow students to learn cursive on their own at their own pace. This gives teachers valuable time to focus on other skills.
Now easier to use than ever! QR codes have been added to help students find each video!
Cursive has always been one of the most fun parts of second or third grade for students. I can help continue this tradition without an extra time burden on the teachers.
The Cursive Writing packet teaches all of the cursive alphabet and the connections between letters.
Cursive writing is an important skill for students, but teachers often do not have the time to incorporate lessons into the classroom.
Some teachers also feel that they themselves do not have sufficient cursive skills to be an effective instructor of this skill.
These video lessons , and may even help teachers improve their own cursive skills.
Letters are learned in a logical sequence, but not alphabetically. Letters with similar strokes are learned then reviewed together.
Blank handwriting pages are provided.
Additionally, the lesson pages and the videos include information on
pencil grip,
slant,
size,
shape, and
spacing.
Other important points
Students are instructed in Dos and Don'ts for each letter.
Students do not have to struggle to figure out letter formation on their own.
Students are not practicing without instruction.
Lessons review previously learned letters.
Lessons ask students to reflect on their work.
Students are encouraged to find their best letter and celebrate it.
Students are asked to find and improve a less well-done letter.
Students will practice reading cursive, while learning to write it.
Letter order:
Lowercase:
i, t, e, l, u, w
a, d, o, g, c, q
j, b, h, k, f
n, m, y
r, s, p
v, x, z (This group could be included with n, m, and y, but I chose to save them for last so that other more often used letters could be practiced first.)
Special lessons for making connections with o, w, b, and v are also included.
Capital:
A, O, Q
C, E
N, M, H, K
B, P, R
F, T
D, L
I, J
S, G
U, Y, W, V, X, Z
The cursive used in this product is my own personal handwriting. I am a teacher with 38 years' experience teaching cursive. I have successfully instructed close to 1,000 students in cursive writing.
Your purchase today provides you with all of the pages (110+), and access links to 81 You Tube videos.
Darcy Baldwin of Darcy Baldwin Fonts helped me immensely by creating and then continually tweaking my font. She was a pleasure to work with. If you need fonts, please visit her store!
You May Also Like
Learning Cursive pages and videos (4th grade and up)
Cursive Yearlong Curriculum Bundle
Tips for Customers
Follow my store for product updates and sales.
Please leave feedback to gain credit for future purchases.
Contact me through Product Q&A with any questions, concerns, or problems.
Thank you,
Ann Fausnight ♥
Total Pages
123 pages and 82 video links
Report this resource to TPT