DEC JAN FEB Quarterly Montessori DAILY Lesson Plan 12 weeks of curriculum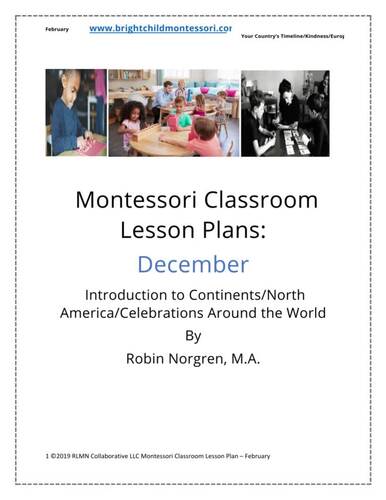 ;
Also included in
This lesson plan takes all of the guess work of how to set up a schedule to teach your Montessori lessons in your primary classroom. You will no longer be stressed out when you start the year of which lesson to do. I take away the stress of a new student coming in mid year and where to start or

Price $184.45

Original Price $204.94

Save $20.49
Description
DEC JAN FEB Quarterly Montessori DAILY Lesson Plan 12 weeks of curriculum
YES THAT IS WHAT I SAID: DAY BY DAY DETAILED LESSON PLANS
WATCH THIS VIDEO FOR A PEEK INSIDE: https://www.youtube.com/watch?v=f6uwoRp2_E4
Here is my story: Maybe it's yours as well (or something similar) I connected with the Montessori philosophy and I was excited to get started.  I was armed with my albums.  But then I was offered my first primary classroom. I took over a classroom but the Montessori Teacher (also known as the "Guide" or "Directress") before ME left no record keeping tracking the progress of the children I had in my charge. I started to panic, wondering where I would even begin.  Can you believe this has happened to me? Twice!
How incredible it would have been if my lesson plans had been in place! I would have just taken out my DAILY lesson plan and taught with confidence, knowing the educational terrain the children had covered and ready to welcome the new students to the classroom with leaders intact.
Maybe your class is mostly 3 year olds.
Perfect! You can take the lesson plans, look through the daily lesson plans and decide upfront which lesson should be set as circle time or group lessons and which ones you can save for your non-nappers. Maybe it's been awhile since you have been in the classroom.
If you have your albums, you can take my lesson plans, look at the reference codes listed next to each lesson and cross reference it with your album and prepare your room by day by week or by month!
Maybe you just want a fresh approach to structuring your classroom.
I promise these lesson plans will cause you to FALL BACK IN LOVE with your classroom environment, leaving you more time to focus on the most important part of this job: bonding with your students!
You are in the right place.
If you want to see the structure of this plan PLEASE DOWNLOAD THE FREE 2 DAY LESSONS. You will experience how thorough this lesson plan format is. And it covers a WIDE range of lessons and offers opportunities to extend your curriculum.
EACH MONTH'S PLAN OVERVIEW:
EACH MONTH'S PLAN OVERVIEW:
DECEMBER:
History
Geography
Map making
Introduction to the Continents
North America
Celebrations around the World
Winter
Bears
Penguins
************* This month I go into how to implement your Language Album once you assess each child's phonemic awareness *********************************
JANUARY:
South America
Time
Handwriting
Calendar Time
Home based Projects for Continent Works
Letter Writing
Frogs
Monkeys
Shadows
Our State
Student of the Week
FEBRUARY:
Topics We Introduce in February:
Europe
Your Country's Timeline
Kindness
Women and Girls in Science
Pigs
Groundhogs
Chickens
Queens
Presidents
Sharks
HIT THE GREEN STAR so you will be notified when more lesson plans become available.
CLICK HERE to view my freebies
CLICK HERE to view my DRAWING LESSONS
CLICK HERE to view my ART WITH THE MASTERS ART LESSONS
CLICK HERE to view my CONTEMPORARY ART LESSONS
CLICK HERE to view my ART LESSONS THAT COMPLIMENT POPULAR BOOKS
CLICK HERE to view my SELF ESTEEM PROJECTS
CLICK HERE to view my CLASS MURAL IDEAS
CLICK HERE to view my FUN ART FOLK ART LESSONS
CLICK HERE to view my 3 BUNDLED LESSONS
CLICK HERE to view my 5 BUNDLED LESSONS
Make sure to click the GREEN STAR near my store name so that you can stay in touch with my store. I create new lessons every week.
Report this resource to TPT