DIGITAL CEREAL BOX BOOK REPORT PROJECT FOR GOOGLE DRIVE™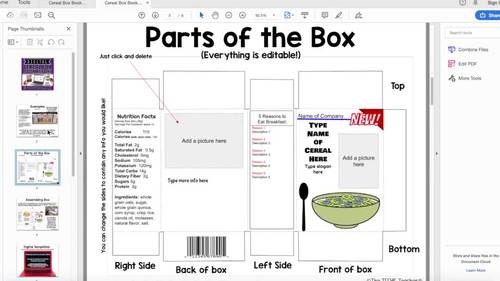 ;
PDF

Google Apps™
Includes Google Apps™
The Teacher-Author indicated this resource includes assets from Google Workspace (e.g. docs, slides, etc.).
What educators are saying
This is a really creative way to have students tell us what they learned in a book. My kids thought it was fun and engaging.
My students were able to be creative! This was a great extension for students who needed more enrichment!
Description
Students will have a blast planning and designing a printable cereal box in Google Drive™ using a planning sheet in Google Slides™ and an editable box template in Google Drawing™. This will give them an opportunity to work on their digital designing skills! Also, students will have the capability to work collaboratively since it can be shared through GSuite. You can use this resource on Chromebooks, laptops or computers. Unfortunately there is not a Google Drawing iPad app available at this time.
I have also included a printable PDF version of the planning sheet and box template for students to complete by hand for those who do not have access to Google Drive or digital devices.
This was initially created to serve as a book report project; however, it could also be used for:

•Math->measurement
•Reading->Author's Purpose
•Social Studies->historical figures
•Health->nutrition
•All About Me
•Digital Citizenship
•You name it!
The template in Google Drawing™ is entirely editable so the teacher can change any part to fit the needs of students. In the included template students can add the name of their cereal, a tag line, main characters, setting, plot, images, photos, other text and use the drawing tools to design. Check out the preview to see all components of this resource.
Also included is both a digital and printable PDF planning sheet to help students plan out their book report if that is how you choose to use this resource. The categories on these planning sheets are editable. Instead of a cereal box, students have the option of creating a box of crackers, a box of cookies, a box of pasta, etc..
All templates are set to print on 11x8.5 paper. Simply cut the template on the solid black lines, fold on the dotted lines and use tape or glue to assemble the flaps. Box measurements: 3.5" x 4.5" (about the size of a mini cereal box)
This resource comes as a PDF download that includes:
•Cover page
•Parts of the box diagram
•Picture of a few completed book reports
•Link to a huge list of cereal names to help students generate ideas for their cereal name
•Cereal box printable planning sheet
•Assembling directions/tips
•Blank printable box template that can be printed and completed by hand
Directions on how to use the tools in Google Drawing are not included. However, you might be interested in checking out this blog post: DIGITAL DIRECTION DRAWINGS.
If you choose to use the Google Drawing™ template then you will need to assign a copy to each students through Google Classroom™, Google address, shared folder, LMS, etc.. I have included a link to a blog post that will help anyone who is unfamiliar with this process.
© 2015 Google and the Google Apps are registered trademarks of Google Inc
Related Products
• DIGITAL BOOK REPORT IN GOOGLE SLIDES™
• DIGITAL READING RESPONSE CHOICE BOARD FOR GOOGLE DRIVE™
• DIGITAL READING RESPONSE JOURNAL IN GOOGLE SLIDES™
• DESIGN A BOOK COVER COLLABORATIVE CLASS PROJECT
• Graphing Book Genres in Google Slides™ Digital Reading Log
***************************************************************************
Follow Me so you can be notified about my latest resources! (Click the star near The Techie Teacher icon)
You can also follow me on:
Report this resource to TPT