Digital Halloween Activities in Google Slides™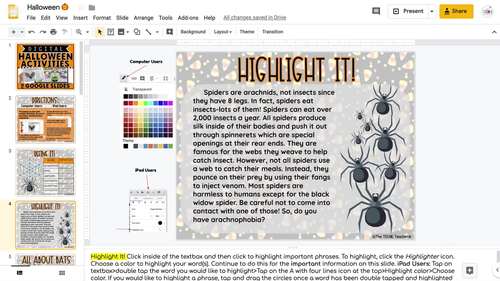 ;
PDF

Google Apps™
Includes Google Apps™
The Teacher-Author indicated this resource includes assets from Google Workspace (e.g. docs, slides, etc.).
What educators are saying
I was able to add this resource as a set of "may-dos" for the couple of weeks leading into the end of October and it was a great way for students to stay engaged and have fun at the end of class!
Thank you! I used this product during October for early finishers. They loved being to pick and choose the activities to complete.
Also included in
This bundle currently contains 13 different holiday themed activity resources for Google Slides™. Be sure to check out each listing to see thumbnails and a video preview of each. The resources included in this bundle are for the following holidays/seasons:•New Year's•MLK•Groundhog's Day•Valentine's

Price $49.99

Original Price $57.24

Save $7.25
Description
Digital Halloween Activities have never been more fun! This resource for Google Drive™ contains 12 different digital Halloween/October themed activities in Google Slides™ that are fun and paperless while remaining academic.
Slides include:
Slide 1: Title page
Slide 2: Directions for Chromebook/computer users and iPad users
Slide 3: Building Vocabulary Knowledge: Students can use a paper dictionary or the two online dictionaries that are linked into the speaker notes of this slide to define the words: arachnid, prey, venom, spinnerets, spiderlings, arachnophobia.
Slide 4: Paragraph about Spiders: Students highlight the important information using the highlighter tool.
Slide 5: Embedded YouTube video about Bats: After viewing the video, students type their answers in the right hand side of the table. After answers have been added the the table, students will use the magic reveal magnifying glass to uncover the correct answers that are hidden in the answer key that appears to the right of the slide.
Slide 6: Summarize It! Students will summarize something they learned from Slides 3-5 (or you could choose to give them a passage/book to read and then summarize on this slide)
Slide 7: If I were a bat: Students will take a selfie and crop to shape (directions are linked into the speaker notes) to place as the head inside of the bat. They will then type a paragraph about what life would be like if they were a bat.
Slide 8: Halloween Safety Tips: Students will visit the two different websites that are hyperlinked in the speaker notes to research and read information about Halloween safety tips. They will then type their 5 favorite pieces of advice using the text boxes provided inside the candy circles.
Slide 9: Decorate It: Students will use the shape tools to decorate a pumpkin.
Slide 10: Acrostic Poem: Students will type an acrostic poem using the word OCTOBER.
Slide 11: Make a Meme: Students can add text to the animated images to create memes.
Slide 12: Synonyms: Students will use a paper thesaurus or the digital thesaurus linked into the speaker notes to find synonyms for the words inside of each spider web to type on the outside of the word's web. *These words are editable so feel free to change them out!*
Slide 13: Making Words: Students will type 3 letter, 4 letter and 5+ letter words they can make from the letters in HALLOWEEN.
Slide 14: Find It! Word Search: Students can use the fill tool or line tool to mark words they find. Draggable check marks are provided for students to mark off the words they have found.
All slides contain student directions in the speaker notes. This resource can be used on Chromebooks, laptops/computers and iPads. Great for any Google Classroom!
If you would like to print any of the slides, they are all set to print on 11x8.5 paper :)
This resource comes as a link in a PDF file. First, make sure you are signed into your Google account. Click on the link and you will be prompted to "Make a Copy". Rename the file to whatever you would like. The presentation will be sent directly to your Drive! Disperse to your students via Google Classroom™, Google Drive™ Shared folder, your Learning Platform, etc..
© 2015 Google and the Google Apps are registered trademarks of Google Inc.
Related Products
• DIGITAL OCTOBER THEMED "Would You Rather..." JOURNAL IN GOOGLE SLIDES™
• DIGITAL HALLOWEEN WRITING ACTIVITY FOR GOOGLE SLIDES™
• DIGITAL HALLOWEEN ROLL A STORY ACTIVITY IN GOOGLE SLIDES™
• Halloween Themed Reading Passages
• Create a Pumpkin in GOOGLE DRIVE™
• Pumpkin Life Cycle Reading Passage
***************************************************************************
Follow Me so you can be notified about my latest resources! (Click the star near The Techie Teacher icon)
You can also follow me on:
Report this resource to TPT