Daily Schema Review - Concept Review - EDITABLE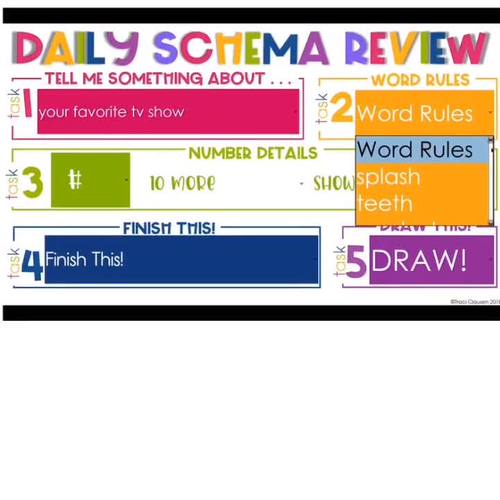 ;
Description
Concept review is paramount to concept mastery and schema retention. The Daily Schema Review resource is useful in many grade levels to aid in concept development, mastery and schema building throughout the entire school year! It is a fabulous tool to add to your daily or weekly routine.

Used as an oral tool, Daily Schema Review is the perfect "starter" to conversations and group discussions. Teachers can display a topic and ask students to work collaboratively to elaborate upon possible answers. This not only lends to discussion and building verbal skills, but also to working together, listening to others and the strengthening the group conversation dynamics.

As an independent or small group center activity, Daily Schema Review offers students opportunity to explore concepts previously discussed in class while demonstrating their acquired knowledge (schema) on various topics.

As a "time filler", Daily Schema Review, offers students opportunity to work quietly on a routine task that requires little to know explanation after the routine has been instructed. This provides the teacher with opportunity to complete tasks or work with children 1:1 or in small groups, with minimal disruption, all the while knowing that students are engaged in a meaningful and skill building activity.

As a "checking for understanding" tool, Daily Schema Review provides the teacher with information regarding student attainment of a given skill. This assists in building future lessons that will allow for further exploration of a topic or simply knowing that you can "move on".

As an assessment tool, collecting Daily Schema Review answer sheets provides teachers with an opportunity assess skills students should have mastered. They provide data on where students have achieved mastery and where they still need practice and instruction. The tasks are easily aligned with standards and can provide ample grading opportunities.

The best part of the Daily Schema Review resource is that each teacher can make it his or her own and use it in their classroom however they wish. It is easily adaptable and suitable for many grade levels.
⭐⭐⭐A COMPLETELY DIGITAL VERSION IS INCLUDED, TOO! Please see the VIDEO preview for more!⭐⭐⭐

❗❗It's EDITABLE, too ❗❗


⭐Detailed ideas for implementation and display
⭐Answer ideas
⭐Task Label Cards (2 types)
⭐Tell Me About It! Cards - develop writing, complete sentence composition, and comprehension skills
⭐Word Rules! Cards - demonstrate understanding of phonic rules
⭐Number Details! Cards - demonstrate a variety of number sense skills on a given number or number dot arrangement
⭐Finish This! Cards - engage students in suggesting adjectives, vivid verbs to make sentences interesting
⭐Draw This! Cards - Utilize those phonic rules to decode words and draw the word shown.

Daily Schema Review also includes a "Wants and Compliments task where students build positive character traits and speaking, writing skills.

Not only does Daily Schema Review offer ample opportunity to build and strengthen concept mastery, it provides an extremely flexible way to offer these opportunities.


✋Please see this blog post and the preview button above for more information!
✨Click the GREEN STAR by my store name to follow and receive updates, freebies and new resource notices!! ✨
Report this resource to TPT