Data Binder for Teachers & Students | PDF, Google Drive, GoodNotes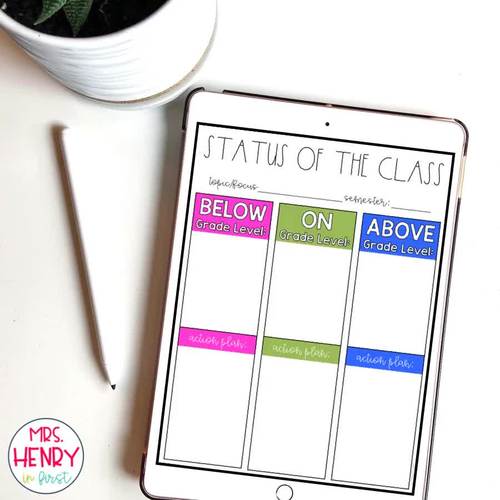 ;
What educators are saying
I appreciate the simplicity of this pack and it helped me to keep everything in one place when assessing!
This perfect for keeping up with my data and giving my students accountability for their learning. Thank you!
Description
Get your DATA BINDER DUNN! ;)
This Editable Data Binder for teachers and students is NOW DIGITAL! You can now access these files on GOOGLE DRIVE!!
Use these DATA Graphs and Forms to keep track of your class all year!! Make an organized (and cute) TEACHER BINDER or STUDENT BINDER and keep all your important documents in one place.
You can track your students DATA or have them track it themselves in their own Student Data Binders!!
Great for student conferences!!!
What's Included?
Printable PDF
Editable PowerPoint options (not all pages are editable)
Digital! -> Google Drive Access
*NEW* GoodNotes Compatible!! You can use this Data Binder in your GoodNotes App.
Details:
Binder Covers (for teachers & students)
Editable Binder Spines (to add student names)
Reading Level (Fountas & Pinnell) Graph
Reading Level (DRA) Graph
Oral Reading Fluency Graph
Running Record Form
Class Data (open ended graph by date/week)
Status of the Class (overview of Below/On/Above Grade Level)
Status of the Class Checklist for standard/focus (demonstrates understanding/needs more practice)
Student Data at a glance
IEP at a Glance
IEP Goals
Intervention/RTI Form
Progress Monitoring
Anecdotal Notes
#GOALGETTER Forms (3 options for setting goals)
Pre/Post Test Data graph
Test Data Forms 10%-100% (math, spelling, vocabulary, grammar, reading, writing, science, blank)
Sight Word Superstar (for graphing up to 220 words)
**NEW -> Math Facts (for addition/subtraction or multiplication 1-12)
**NEW -> Mastering the Standards Data Sheet
**NEW -> Student Progress Quarterly Table
**NEW -> Digital Data (students can log their online program data)
*EDITABLE FORMS/TEMPLATES
---> While there are EDITABLE options included, please note that the HEADINGS are not editable as they come in the featured font PB DUNNOBSESSED which is a commercial font I have purchased from A Perfect Blend. If you want to make your own headings, you can do so in your own font choice or you can purchase the font directly yourself from A Perfect Blend.
Looking for MORE Farmhouse themed resources? Click the links below:
Report this resource to TPT