Decimals to Fractions Worksheet │Mitten Math Craft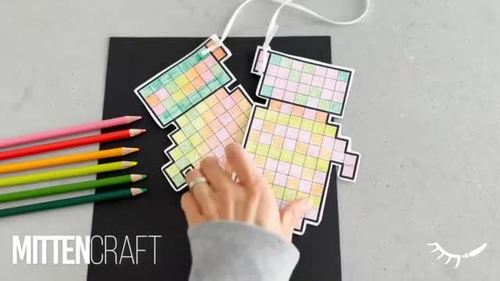 ;
Description
These adorable mittens are a fun printable math paper craft to apply knowledge of how to convert fractions to decimals. Once complete these adorable mitten pairs make great classroom decor to display new math concepts!
***It is helpful if students have a prior understanding of fractions and decimals before completing this fraction and decimal worksheet.
How it works:
1. Students create a pattern on the front of the mitten using either the 100 square or 200 square template.
2. Count the number of boxes colored and represent the value as a fraction and then convert the value to a decimal.
Variations:
There are several variations for these worksheets with decimals. Some of the decimal and fraction worksheets come with either a predetermined fraction or a predetermined decimal for students to convert.
Fraction and Decimal Template Options:
Templates vary depending on learning objectives.
Pg. 6-9: Image only with space for students to design their own pattern and then calculate the fraction and decimal value. A right and left mitten template is provided for each template option.
Pgs. 10-13: Mitten template comes with predetermined decimals for students to convert to fractions and color.
Pgs. 14-17: Mitten template comes with predetermined fractions with a denominator of 100 or 200 for simple conversions.
Pgs. 18-21: Mitten template comes with a fraction in simplest form for students to convert to decimals and color. This template is more challenging.
Connect with Me:
I would also LOVE to see how you use them in your classroom! Feel free to tag me or send me a message if you have any questions.
New products are posted at a discount for the first 48 hours! Follow me to know about sales and new product releases.
instagram: @draw.calm
facebook: @drawcalmdesign
Teaching Duration
90 minutes
Report this resource to TPT
Standards
to see state-specific standards (only available in the US).
Explain equivalence of fractions in special cases, and compare fractions by reasoning about their size.
Recognize and generate simple equivalent fractions, (e.g., 1/2 = 2/4, 4/6 = 2/3). Explain why the fractions are equivalent, e.g., by using a visual fraction model.
Add and subtract fractions with unlike denominators (including mixed numbers) by replacing given fractions with equivalent fractions in such a way as to produce an equivalent sum or difference of fractions with like denominators. For example, 2/3 + 5/4 = 8/12 + 15/12 = 23/12. (In general, 𝘢/𝘣 + 𝘤/𝘥 = (𝘢𝘥 + 𝘣𝘤)/𝘣𝘥.)
Apply and extend previous understandings of multiplication to multiply a fraction or whole number by a fraction.
Interpret multiplication as scaling (resizing), by: