Decodable Readers Bundle with Homework | Emergent Readers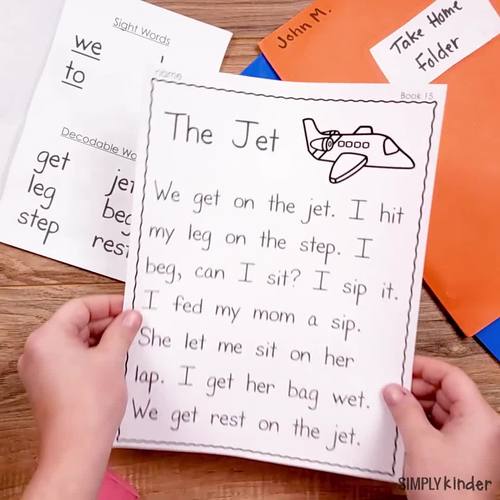 ;
What educators are saying
I was so happy to find this set of decodables! Very SOR based and effective for my kindergarten students.
Great resource that I can send home as well to support those that want to be able to work on things at home.
Description
Decodable Readers Bundle with Homework | Emergent Readers
❤️Practice reading with your students with this comprehensive set of decodable readers and activities! Perfect for small groups or homework.
Looking for Science of Reading aligned, skill focused Decodables? Check out this bundle:
Included in this download:
This is a bundle of the Simply Kinder Decodable resources. Stories start with very basic and patterned text and then advance to more complex as the books go up in number.
Each decodable is 8 pages in length. Each decodable also includes:
The story is on one page for centers or to include in homework.
A writing page that uses the same words as the story.
A homework page where students read the story and parents sign.
BONUS FILE: Alphabet Books (WITH EDITABLE SIGHT WORDS) Click link to see specific words: 26 books using sight different words and initial sounds. to see specific words: 26 books using sight different words and initial sounds. (This file is only the books, it does not contain homework).
Editable PDF must open using any Adobe product on a computer or laptop. You can find free Adobe readers on the internet. Please note, at this time, they are not compatible with internet-based devices such as iPads or Chromebooks. CLICK HERE for the latest troubleshooting tips and tricks while using our Editable PDFs.
Teacher Reviews:
⭐️⭐️⭐️⭐️⭐️"What a great way for students to show off their learning and reading skills at home as well as in class! My students were so proud to take these home and read to their families. Thank you for sharing!"
⭐️⭐️⭐️⭐️⭐️ "Love this bundle! Readers for all the high frequency words and work to go with each. Love all the options for reviewing the words!"
⭐️⭐️⭐️⭐️⭐️ "We love these decodable readers! I use these for reading interventions throughout the week. These readers are a great way to practice early reading skills. They also help students learn and solidify sight word knowledge. I also love that there is a homework component so students can practice at school and at home!"
Shop all of the Simply Kinder Bundles and save 50-75% off our most popular downloads.
You might also like these YEAR ROUND RESOURCES resources:

You might also like these Top Selling Kindergarten Resources:
Stay up to date with all things Simply Kinder:
✅ Get our emails with weekly FREEBIES, special offers, & teaching ideas
✅ Join the Simply Kinder Teacher FACEBOOK GROUP
✅ Read about Kindergarten on our Website
✅ Follow us on Teachers Pay Teachers

Jennifer Kadar - Simply Kinder - Kindergarten - First Grade - Preschool
© Simply Kinder, LLC
For questions please email Hello@SimplyKinder.com.
Report this resource to TPT