Dia de los Muertos Activities Day of the Dead History of Halloween Close Reading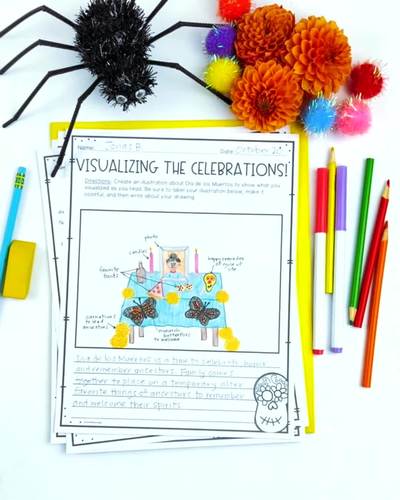 ;
PDF

Google Apps™
Includes Google Apps™
The Teacher-Author indicated this resource includes assets from Google Workspace (e.g. docs, slides, etc.).
Easel Activity Included
This resource includes a ready-to-use interactive activity students can complete on any device. 
Easel by TPT is free to use!
Learn more
.
What educators are saying
Loved this resources for Halloween! Students were able to understand compare and contrast standard and learn more about this holiday!
These passages were really engaging and interesting. My students had great discussions about the two holidays and did excellent compare & contrast paragraphs. Loved this resource so much!
Also included in
Are you ready for the upcoming fall holidays like Halloween, Day of the Dead, Veterans Day, and Thanksgiving? Never be caught without engaging holiday activities for your upper elementary students this fall! Engage your students this autumn with these holiday-themed informational texts and critical

Price $35.00

Original Price $49.09

Save $14.09

Engage your students throughout the year with these holiday-themed informational texts and critical thinking writing activities that upper elementary kids LOVE! Be ready for holiday celebrations this school year with these meaningful and fun activities.Nonfiction reading passages are perfect to prac

Price $96.00

Original Price $143.30

Save $47.30
Description
Are you looking for engaging Day of the Dead and History of Halloween Halloween reading comprehension activities and art projects to teach your students about these different holidays?
These Day of the Dead reading and writing activities are age-appropriate with informational reading passages that will have your students comparing and contrasting this holiday with Halloween and critically thinking about their origins, similarities, and differences.
Nonfiction articles are perfect to help your students practice close reading strategies, too. Also included are writing prompts, shape poetry, and meaningful reader reflection activities. Shape poems and mini-posters make a great student-centered Day of the Dead bulletin board. (Please see the preview.)
Short on time to teach about Day of the Dead this year? Complete activities in group settings and encourage meaningful discourse in a short amount of time!
This set includes both print and digital versions.
CONTENTS:
✓Link for Google Slide use and digital directions
✓Teacher Suggestions and Book List
✓Holiday Question Organizer
✓Day of the Dead KWL Organizer
✓2 Nonfiction Articles and Close Reading Reflection Activities: Day of the Dead and Halloween
✓Holiday Celebration Venn Diagram
✓Picturing Yourself on the holiday
✓Optional Group Project
✓Holiday Problem Solving Activities (2 levels and answer keys)
✓Holiday Close Activity (With answer keys)
✓Acrostic Poem
✓Two Shape Poem Activities (a colorful art and writing activity)
✓Day of the Dead and Halloween Student Display Posters
✓Holiday 3*2*1
✓Writing Activities in Different Genres:
✓Prompt and Graphic Organizers for:
Opinion Writing
Expository Writing
Narrative Writing
✓Holiday Word Search and Answer Key
KINDLY NOTE: These resources are in English.
Please see the preview for a more detailed look at this product.
Recent feedback on this resource:
"I used this with my students during Halloween and Day of the Dead to compare and learn more about this celebration. My students enjoyed learning about it and doing extension activities!"
"This was awesome to help me keep engagement high during the last week, but also keep the rigor high! Thank you!"
"Very engaging and a great resource."
"We walked through this the week of Halloween and we absolutely loved the comparing between the holidays! There are so many options available in this purchase, it was a great addition to all of our festivities for the holiday that was aligned with some excellent learning!"
You might also be interested in these timely resources:
----------------------------------------------------------------------------
Follow me by clicking the green star at the top of my store page for notifications of new products and sales. Remember new products are always 50% off the first 24 hours!
Subscribe to my blog for engaging teaching ideas and exclusive freebies!
Follow me on Instagram for behind the scenes views of Think Grow Giggle:
Think Grow Giggle on Instagram
Follow me on Pinterest for more teaching ideas:
Think Grow Giggle on Pinterest
Follow me on Facebook for teaching ideas and flash freebies:
Questions? Email me at ThinkGrowGiggleShop@gmail.com
Report this resource to TPT
Standards
to see state-specific standards (only available in the US).
Ask and answer questions to demonstrate understanding of a text, referring explicitly to the text as the basis for the answers.
Determine the main idea of a text; recount the key details and explain how they support the main idea.
Describe the relationship between a series of historical events, scientific ideas or concepts, or steps in technical procedures in a text, using language that pertains to time, sequence, and cause/effect.
Determine the meaning of general academic and domain-specific words and phrases in a text relevant to a grade 3 topic or subject area.
Refer to details and examples in a text when explaining what the text says explicitly and when drawing inferences from the text.