Differentiated Story Writing Prompts Templates Set 1 - from Writing Bundle 1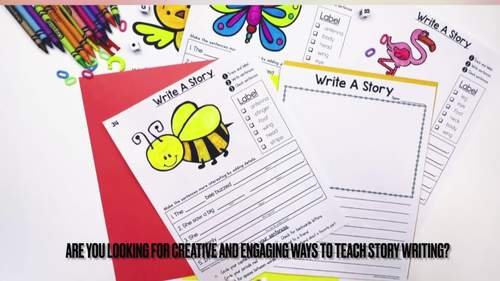 ;
What educators are saying
My students really enjoyed using these prompts. We started off doing them together and eventually I was able to use them as a centre activity. The kids were quite successful using these.
This was perfect to include in my writing center. It made story writing fun and engaging and the students loved them!
Also included in
This is a bundle of 9 top resources to implement rigorous, interactive writing instruction in your classroom. It is also perfect to support and reinforce the writing program you already have set up! This comprehensive collection of activities will help guide your Writer's Workshop and inspire studen

Price $31.70

Original Price $63.40

Save $31.70
Description
Story writing can be daunting for emergent readers. This differentiated resources is specifically designed to scaffold emergent short story writing by including "finish the story" writing prompts. It is also designed to be flexible enough to challenge advanced students when writing a story by prompting the use of more complex descriptive sentences and self-editing.
Most importantly, the differentiation is discreet, with no additional work for the teacher.
All students can use the same story template for the basis of their sentences and story writing - the only difference is the tasks they are expected to complete as directed by you. Differentiation is discreet; your expectations are different for each student.
Depending on their ability, students use the template in different ways.
There are 50 different animal story writing prompts included. I've been using this idea to differentiate instruction in my own multi-age classroom for over 20 years with much success.
Note: If you are in need of an alternate version for Australia that uses the term "full stop" rather than period, you can find it included!
Due to the popularity of this resource, SET 2 is now available with many more templates with seasonal themes! Click HERE to see them!
LEVEL 1: Use the word bank to label the picture. Students practice reading the word labels to themselves and peers, as well as illustrating the picture.
TIP: Laminate the pages and slip them under journal pages so students can trace the picture into their own journal pages before labeling and coloring.
LEVEL 2: Use the "fill in the blank" sentence frames to create three simple sentences about the animal in the picture. This kind of scaffolding supports emergent readers while fostering success. Students practice reading their simple sentences to themselves and peers. This step can be done instead of the labeling, or after the labeling task in level 1.
LEVEL 3: Students who are more advanced can use the sentence frames to create more complex and detailed sentence in their own journals. Emphasize more descriptive vocabulary and longer sentences. These first three sentences will create the beginning of a simple story.
LEVEL 4: Because the first three sentences from level 3 will create the beginning of a simple story, the next step is to complete the story. I like to use the word "Suddenly..." as a way to create some excitement and conflict to a simple story, even with one sentence. A final sentence can complete the story.
LEVEL 5: UseFor higher grades or more challenging tasks, students use the same simple framework to write a longer, more advanced story on their own. When done, they use the checklist at the bottom of each page to self-edit work, check for capitalization and punctuation, and get peer feedback. Often it is easier to edit a story when it is read aloud to a friend. Finally, students can create a final edited version of their story and picture on a new writing template. These can be presented to the class if desired. Depending on student ability, you can specify how long and complex you expect the story to be.
As you can see, the same simple template can be used in multi-aged classrooms and for all abilities. The same templates can also be used as a literacy center, as described below:
This set can be used as an independent literacy center, a writers workshop task, or a whole group morning writing job. Once students are used to the task, they will enjoy choosing their own animal, and then feel more excited about their writing! Students using this set are often surprised by how much they can write. This, in turn, gives them the confidence to continue writing!
Another idea is to laminate the whole set and use repeatedly. Students simply trace over the animals and copy the sentences into their own writing page. For very young students, I prefer to use these as printables so they can write directly on the page.
PLEASE NOTE:
This unit is part of the Writing Workshop MegaBundle, which has 9 writing resources bundled together for an entire year of writing resources at a MUCH reduced price.
Click below to take a quick look:
Click HERE to see WRITING MEGABUNDLE
If you would also like some seasonal themes using the same format, Click HERE to see SET 2!
You may also wish to browse through similar bundles for PHONICS SUPPORT through the year: You can see the other PHONICS BUNDLES by clicking links below:
Click HERE to see PHONICS PHONICS BUNDLE 1
Click HERE to see PHONICS PHONICS BUNDLE 2
Click HERE to see PHONICS PHONICS BUNDLE 3
Click HERE to see PHONICS PHONICS BUNDLE 4
All of these products have been used in my own classroom for many years with great success. I am so happy to share my teaching ideas with other teachers with the goal of saving time and increasing student engagement and learning. Thank you for taking a look!
You can see the preview by clicking the green button near the top of this page. Please look at the preview to see the details before purchasing to ensure these are right for your needs.
Click HERE to follow my store for early bird pricing on new resources!
http://www.teacherspayteachers.com/Sellers-Im-Following/Add/Whimsy-Workshop-Teaching
*Commercial purposes such as Outschool are not permitted.
If you have any trouble with downloading or printing your documents with the clip art, please read the help on this page: https://www.teacherspayteachers.com/Help
If you still need troubleshooting, please email support@teacherspayteachers.com and the TPT tech team will be happy to help you.
Clip art bundles are collected in a compressed ZIP file and include all clip art on the cover, my logo, a preview image, and a link to my TOU. You can read more about zip files by clicking HERE.
Would you like to see a huge list of similar resources all on one page?
Just click the category below that you'd like to browse:
⭐️  Click to see all SOCIAL SKILLS resources.
⭐️  Click to see all ART resources.
⭐️  Click to see all MATH resources.
⭐️  Click to see all FREE DIRECTED DRAWING VIDEOS resources.
⭐️  Click to see all SENTENCE BUILDING resources.
⭐️  Click to see all PHONICS AND READING resources.
If you have any questions or concerns, please email me directly at whimsyworkshopcreations@gmail.com
Please read my TOU first as many questions are answered there.
Whimsy Workshop Teaching Terms Of Use
You can see ALL clip art and early literacy sets organized in one place by clicking Whimsy Workshop Teaching -- simply choose a tab at the top of the page to explore!
Don't miss out on free and discounted resources by keeping in touch!
Click HERE to follow my store for early bird pricing on new resources!
Teachers Pay Teachers Notifications
Access to:Newsletters and Free Resource Library
-Susanna
Whimsy Workshop Teaching
***************************************************************************************
Please read my TOU first as many questions are answered there.
Whimsy Workshop Teaching Terms Of Use
Copyright ©Whimsy Workshop Teaching, Inc. All rights reserved by author. This product is to be used by the original downloader only. Copying for more than one teacher or classroom use is prohibited. If you know of other teachers who wish to have their own copy, you can click on extended licenses during the checkout process (at reduced prices), or email the product link to colleagues so they can purchase their own legal copy and receive any updates in the future.
This product may not be distributed or displayed digitally for public view. Failure to comply is a copyright infringement and a violation of the Digital Millennium Copyright Act (DMCA). Clipart and elements found in this PDF are copyrighted and cannot be extracted and used outside of this file without permission or license. Intended for classroom and personal use ONLY. *Not for commercial purposes such as Outschool.
************************************************************************************************
Report this resource to TPT