Digital Articulation Speech Books for Google Slides™ Editable Homework Activity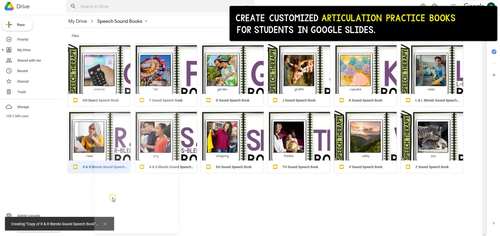 ;
PDF

Google Apps™

Internet Activities
Includes Google Apps™
The Teacher-Author indicated this resource includes assets from Google Workspace (e.g. docs, slides, etc.).
What educators are saying
This is a great way to encourage home carryover with a material that is made in a teletherapy session together!
This is a great resource to use for older students via teletherapy! So awesome to have a resource that can be created specifically for the child and their interests and goals!
Description
Do you ever wish that you could give older students more ownership of their speech goals and target functional words centered around high-interest topics? Or maybe you need a system for providing consistent articulation practice and homework.... digitally?
This set of 12 EDITABLE DIGITAL SPEECH BOOKS opens in Google Slides™ and can easily be shared with students. The following sounds/blends are included (each in their own file):
K, G, F, V, TH, S and S Blends, Z, SH, CH, J, L and L Blends, R and R Blends
This resource provides TONS of versatility for older articulation students to identify targets for their articulation goals. You and your students can add your own images from the internet, a computer, or other digital device, as well as customize the text for the photos. You can also specify the level you want the student to practice (word, phrase, sentence, etc.) as well as how many repetitions.
This set of customizable, digital books is perfect for practice both in and out of therapy sessions and can be used in countless ways for the years to come!
Be sure to WATCH THE PREVIEW VIDEO. In addition, I have created a more detailed tutorial for SLPs wanting to utilize this resource.
To learn more about using GOOGLE SLIDES™ in teletherapy, check out this FREE VIDEO and this BLOG POST!
For more ARTICULATION activities for OLDER STUDENTS, check out:
Articulation Carryover Fluency Homework Calendar
Articulation Peg Game BOOM CARDS™
Speech-Agories Articulation Game
Speech Libs Companion Activity
Articulation Fireworks BOOM CARDS™
Articulation Firefly Find BOOM CARDS™
Report this resource to TPT