Digital Biology Activities for Distance Learning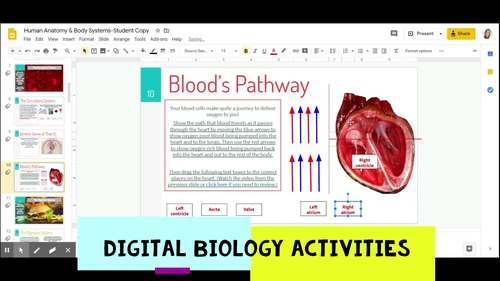 ;
Includes Google Apps™
The Teacher-Author indicated this resource includes assets from Google Workspace (e.g. docs, slides, etc.).
Description
This ENORMOUS bundle of interactive digital Biology activities is easy to use in a Google Classroom or distance learning environment throughout the year. Use these activities to supplement your lessons and engage your students with a variety of games, videos, labs, group activities, online surveys, writing activities, TedEd lessons, drawings, peer activities, discussion questions, Cornell notes, social media "posts", and SO MANY MORE relevant and FUN ways to get your students interested in Biology! Students can save their slides in a Google Classroom or in their Google Drive to reference and review throughout the year with all their video content, classwork, notes, and visuals in one place! You also save money when you purchase this bundle!
Digital Biology Bell-Ringers for the Entire Year
Modeling Photosynthesis Class Simulation
Invertebrates Bundle (Sponges & Cnidarians, Mollusks & Echinoderms, Worms, & Arthropods)
*Saving Coral Project Based Learning (Digital Class Project)
Introduction to Graphing Part 1
Introduction to Graphing Part 2
Cellular Respiration with Fermentation Lab
*You will need a Google account to make copies of the activities.
Report this resource to TPT
Standards
to see state-specific standards (only available in the US).
Use a model to illustrate how photosynthesis transforms light energy into stored chemical energy. Emphasis is on illustrating inputs and outputs of matter and the transfer and transformation of energy in photosynthesis by plants and other photosynthesizing organisms. Examples of models could include diagrams, chemical equations, and conceptual models. Assessment does not include specific biochemical steps.
Construct and revise an explanation based on evidence for the cycling of matter and flow of energy in aerobic and anaerobic conditions. Emphasis is on conceptual understanding of the role of aerobic and anaerobic respiration in different environments. Assessment does not include the specific chemical processes of either aerobic or anaerobic respiration.
Design, evaluate, and refine a solution for reducing the impacts of human activities on the environment and biodiversity. Examples of human activities can include urbanization, building dams, and dissemination of invasive species.
Apply concepts of statistics and probability to explain the variation and distribution of expressed traits in a population. Emphasis is on the use of mathematics to describe the probability of traits as it relates to genetic and environmental factors in the expression of traits. Assessment does not include Hardy-Weinberg calculations.
Ask questions to clarify relationships about the role of DNA and chromosomes in coding the instructions for characteristic traits passed from parents to offspring. Assessment does not include the phases of meiosis or the biochemical mechanism of specific steps in the process.