Digital Center Rotation Slides with Timers Reading Writing Math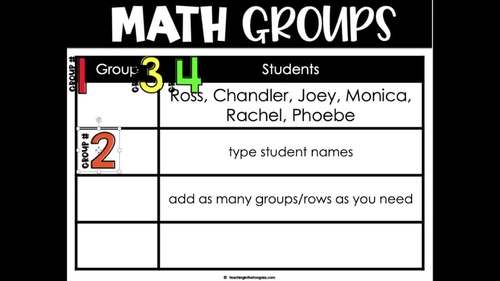 ;
Zip

Google Apps™

Internet Activities
Includes Google Apps™
The Teacher-Author indicated this resource includes assets from Google Workspace (e.g. docs, slides, etc.).
What educators are saying
I use these every day during reading center time. It is easy to set up. My students liked seeing the timer to know how much time was left at centers.
Also included in
Google Slides Digital Activities and Templates Bundle is discounted to help you save BIG. This set of digital and Google Classroom activities includes everything you need to run a smooth classroom, but with the added benefit of integrating technology to make routines, classroom management and studen

Price $116.44

Original Price $129.38

Save $12.94
Description
Digital Center Rotation Slides with Timers for Reading Writing Math allow you to organize your groups within minutes by typing in your student names and select which activities they'll be doing with the moveable text icons. Once you get your rotation board set up, you can change it with a few clicks whenever you like--it's SO EASY! These are perfect for projecting your boards on a screen, but without the tedious printing, laminating, cutting, bulletin board prep work. You can also add your own images or student photos, making it easy for students to see where they need to be at a glance.
Digital Center Rotation Slides with Timers Reading Writing Math includes:
Slide to sort your students into groups (use the provided group titles or add student photos--add as many groups as you need!)
Center icon cards (see full list below--including blank icons so you can edit the text)
Digital rotation boards with editable tables (add rows/columns to create as many rotations or groups as you need, and you can edit the headings)
Slides to display a single rotation at a time (titled "Round 1"-"Round 6" and "Clean Up!" with an area to edit your own more specific directions and a timer)
Center accountability slides (use digitally with Seesaw or print--students check off as they complete a center)
Printable pages to create a center rotations bulletin board or display signs near the center area
Add a timer of your choice (30 seconds, 1, 2, 3, 5, 10, 15, 20, 25, 30, 35, 40, 45, 50 minutes) to the Powerpoint version (timers will also work in Keynote). In Powerpoint, you can set your timer to include a sound that goes off and set a custom time to advance the slide automatically. Directions for how to add a timer to the Google version are also included. Google does not currently have an audio option for slide transitions or custom time to advance your slide (you have to click it to move to the next slide).
Math center icons: Fact Fluency, Flash Cards, Money, Telling Time, Pattern Blocks, Dominoes, Number Lines, Measurement, Dice, Number Sense, Fractions, Independent Practice, Graphs, Addition and Subtraction, Place Value, Math by Myself, Multiplication and Division, Calculator Practice, Geometry, Teacher Table, Math Tubs, Math Journals, Math Paperless Pocket Chart, Math Games, Math Buddies, Task Cards, Counting Bears, Counting Links, Two-Tone Counters, Snap Cubes
Literacy center icons: Word Work, Seat Work, Read to Self, Writing, Library, Buddy Reading, Teacher Table, Skill Work, Sight Words, Handwriting, Phonics, Alphabet, Work on Writing, Spelling, Read the Room, Pocket Chart, Poetry, Big Books, Listen to Reading, Guided Reading, Write About Reading, Read to Someone, Reading Fluency, Write the Room, Literature Circles
Miscellaneous center icons: Kitchen, Dry Erase, Crafts, Science, Puppets, Dramatic Play, Art, Dress Up, Cars, Stamps, Easel, Computer, Discovery, Listening, Blocks, Typing, STEAM, Sensory Table, Tablet, Math, Puzzles, Music, Playdoh, Coloring, Pinning, Fine Motor, Construction, Free Choice, Busy Boxes, Social Studies, Technology, Magnets, Light Table, Interactive Whiteboard, Overhead Projector, Games
All rights reserved © Teaching in the Tongass
More Resources You Might Also Like:
⭐ Calendar Math Morning Meeting
⭐ Book Club Activities Literature Circles
⭐ Phonics Math Writing Pocket Chart BUNDLE
⭐ Stickers
Report this resource to TPT