Digital Classroom Economy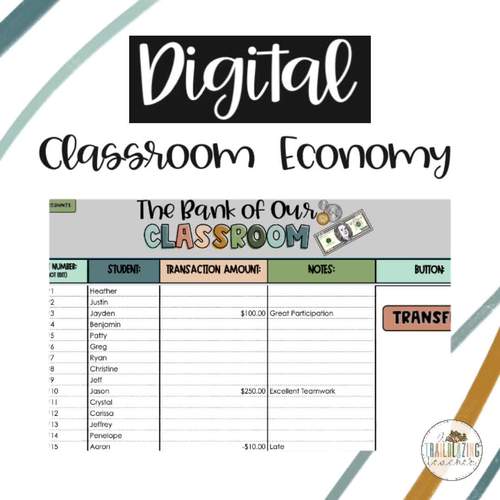 ;
PDF

Google Apps™
Includes Google Apps™
The Teacher-Author indicated this resource includes assets from Google Workspace (e.g. docs, slides, etc.).
What educators are saying
My students loved having their own bank account! This is so great and super easy to use! I still use class cash to pay out students, but it's fun to look at their accounts!
Exactly what I was looking for. Thank you so much for sharing this. Such a time saver to not have to formulate one on my own.
Description
This digital classroom economy is an easy way to encourage positive behavior and keep track of classroom management. This Digital Classroom Economy system requires no physical money, coins, or tickets. If you are teaching virtually or want to minimize germs and clutter, this will be perfect for you!
The Digital Classroom Economy is provided in Google Sheets. From the bank home page, teachers can enter students' names and it will automatically populate into the individual bank accounts. Teachers can also transfer funds (both positive and negative) and notes with the click of a button*!
You can also share a direct download link to each student so they can download a PDF of their updated bank information whenever needed. These links will be automatically generated for you on one tab so you don't have to search for them. You only need to share this link ONCE for students to be able to access it all year. You can send the link via email or create a QR code! I also included a link to instructions on how you can share their individual bank accounts as a webpage if you'd like an alternative to PDFs!
Also included in this resource:
-Simple classroom store tab that teachers can easily edit with their own classroom rewards and prices.
- A tab that allows teachers to show ways students can earn class funds throughout the year.
When teachers want to start over next semester or year, simply click "clear accounts" and everything gets reset back to 0. You can also edit students' names whenever needed.
You can add up to 50 students in this resource. If you have more students, you can simply make a copy of the whole document.
Easy, peasy, lemon squeezy!
*Here are some important things to know before you purchase!
In order to make this whole thing work correctly, there are Macros (code) embedded into the document. Not all macros are supported on iPad/mobile device/tablet devices. For this product, you will have full functionality on your desktop, but on your iPad/mobile device/tablet, you will not be able to auto-transfer funds or clear accounts from the Bank Home page. You will still be able to manually add funds to students' accounts though. You will also still be able to download students' bank account information as a PDF.
When using on your desktop, you will need to give permission for the macros to run. There will be a popup that shows up when you transfer funds or clear all the accounts the first time. Simply follow the instructions that pop up and you will be good to go!
Also, due to the amount of code required to auto-transfer funds, it may take up to a minute or two for funds to transfer into students' individual bank accounts from the Bank Home page. The length of time it requires will be determined by how many transactions you are performing at once. If you minimize your screen, it will still work ;-P.
Unfortunately, you will not be able to share the individual PDF links via Google Classroom. For some reason, Google Classroom automatically changes the link when posted so they will get access to the entire document rather than only their bank account information. HOWEVER, I included a link to instructions on how you can publish each tab to the web and share those links via Google Classroom. That means students will still be able to access their bank account; they will just access it from the web, rather than as a PDF.

A big THANK YOU to my husband who is a Google Sheets/Excel genius for making this happen.
I am not affiliated or associated with Google, nor do they endorse this resource. 
Don't forget to leave feedback! :) TPT offers credits that can be applied to future purchases! To earn credits, simply rate and comment on the product.
This product is for personal use in a single classroom only. No part of this download may be copied, sold, distributed, or edited without the permission of the author. Additional licenses may be purchased from my TPT store. Please do not post this document online; however, feel free to blog or post on social media about the use of this product as long as you credit back to my TPT store with a link.
Report this resource to TPT