Digital Escape Boom Cards No Prep Literacy and Math Centers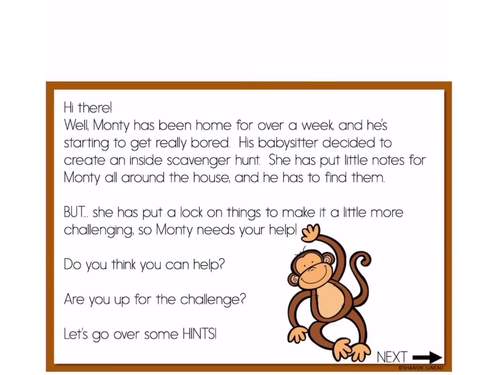 ;
Compatible with Digital Devices
The Teacher-Author has indicated that this resource can be used for device-based learning.
What educators are saying
I used this for my kids this past spring during remote learning. It kept them engaged and interested in the activity.
My students loved this! It was a great change of pace from regular instruction and felt very much like a game.
Also included in
These Year-Long Digital Escapes are a great way for your students to practice ELA and Math skills while learning and laughing with Monty! These are interactive, and promotes peer collaboration and problem solving skills! Each escape has Monty the Mischievous Monkey doing something that creates a

Price $85.00

Original Price $107.00

Save $22.00
Description
If you are looking for a FUN Digital Escape activity for your students to complete, this will not disappoint! There are four Math activities and two ELA activities within this escape room! This is interactive, promotes peer collaboration and problem solving skills! IF YOU WANT TO USE FOR DISTANCE LEARNING... I've also included signs that say they beat their mom, dad, brother, or sister while playing.
Save 20% if you purchase the bundle!
THIS STORY:
Monty is stuck at home, and it's been a week and counting. He is bored, and doesn't know what to do. His babysitter decides to create a scavenger hunt inside the house. For each item he finds, he gets a coded note telling him something he can do so that he's not bored.
SKILLS COVERED: (1st grade skills)
R Blend Words (GR, TR, PR, DR, CR, FR)
Counting by tens up to 110
Short vowel words (cvc)
Ten more ten less
Subtraction relative to addition
Reading Graphs
WHAT IS A DIGITAL ESCAPE ROOM?
This is a fun way for you to review concepts, build collaboration, and JUST HAVE FUN! Students are placed into groups/OR CAN PLAY INDEPENDENTLY and they have to figure out codes to get from one room to the next before they run out of time!
WHAT DO YOU NEED?
You will need ACCESS to the INTERNET, a DEVICE for each group of students, and a FREE BoomLearning ACCOUNT.
TRY BEFORE YOU BUY!
Click here to try one of my FREEBIES
Please READ BELOW to understand how Boom Cards work! This purchase will give you a PDF that will lead you to the Boom Learning platform. ⭐ THIS IS A DIGITAL RESOURCE, PLEASE TAKE THE TIME TO READ BELOW ABOUT THIS PRODUCT, AND CLICK ON THE FREEBIE TO SEE IF THIS IS SOMETHING THAT WILL WORK FOR YOU!⭐
WHAT IS NEEDED:
To use Boom Cards, you must be connected to the Internet. Boom Cards play on modern browsers (Chrome, Safari, Firefox, and Edge). Apps are available for Android, iPads, iPhones, and Kindle Fires. For security and privacy, adults must have a Boom Learning account to use and assign Boom Cards. You will be able to assign the Boom Cards you are buying with "Fast Pins," (play provides instant feedback for self-grading Boom Cards). Fast Play is always a free way for students to engage with Boom Cards decks. For additional assignment options you'll need a premium account. If you are new to Boom Learning, you will be offered a free trial of our premium account. Read here for details: http://bit.ly/BoomTrial.
You may be eligible for a free trial from Boom Learning. Read here for details: http://bit.ly/BoomTrial. If you choose not to stay on a premium account after your free trial, you will still be able to assign all your Boom Cards to as many students as you see fit using Fast Play pins (which give instant feedback for decks that are self-grading).
QUESTIONS OR CONCERNS
Email me at scjuneau@yahoo.com if you have any questions or concerns about this product. If you are not sure that this product will work for you, please check out one of the freebies. Keep in mind that the preview shows you what the game is going to look like.
CLICK HERE TO FOLLOW ME! Following me allows for you to see items that I put in my store for 1/2 price for the first 24 hours.
CUSTOMER TIPS
How to get TPT credit on future purchases:
Please go to your MY PURCHASES page. Under each purchase, you will see a PROVIDE FEEDBACK button. Click on it, leave feedback, and then you will receive credits for your purchase that you can use on future items (AS IN FREE MONEY to use on TPT). I know, right??? And I truly do read my feedback. I can't respond to all of them, but I do value your feedback!
Thank you for visiting my little store! Please contact me if you have any questions!
I SURE APPRECIATE YOU!
Shanon Juneau ❤️
Report this resource to TPT
Standards
to see state-specific standards (only available in the US).
Organize, represent, and interpret data with up to three categories; ask and answer questions about the total number of data points, how many in each category, and how many more or less are in one category than in another.
Given a two-digit number, mentally find 10 more or 10 less than the number, without having to count; explain the reasoning used.
Understand subtraction as an unknown-addend problem. For example, subtract 10 – 8 by finding the number that makes 10 when added to 8.
Relate counting to addition and subtraction (e.g., by counting on 2 to add 2).
Orally produce single-syllable words by blending sounds (phonemes), including consonant blends.