Digital Escape Room: Measurement Distance Learning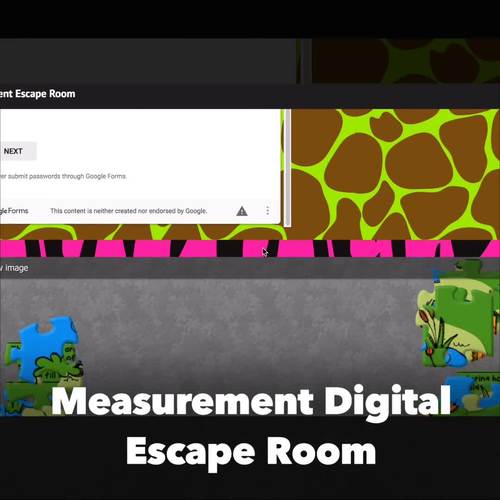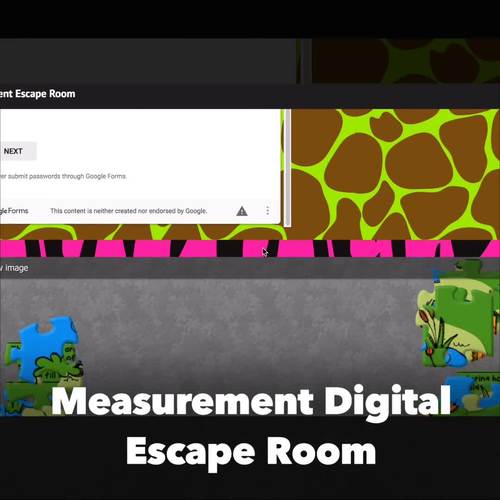 Created By
Kristin Kennedy
Also included in:
This growing bundle includes all of my DIGITAL math escape rooms for grades 3 & 4 at a 25% DISCOUNT plus all future sets for FREE. You will simply re-download this file under "My Purchases" to get the updates.***AUGUST 2020 MAJOR UPDATE: These escape rooms have been fully optimized for distance/

40% discount! Includes everything you need to run a successful PAPERLESS and/or remote math classroom: Digital task cards, centers, assessments, escape rooms, and more! Below are links to all of the resources included in this EXTREMELY HEAVILY DISCOUNTED bundle. By purchasing this bundle you are rec

$259.33

$155.60

Save $103.73
Product Description
This DIGITAL escape room will ENGAGE and CHALLENGE your students while they work to solve various measurement problems and puzzles. This escape room is completely PAPERLESS and requires NO PREP aside from sharing the Google Site™ with your students (a link & QR code are both included).
***AUGUST 2020 MAJOR UPDATE: This escape room has been optimized for distance/remote learning so you can just assign and go! There are now 2 separate versions included- the original Google format and a single-file Google format. The new Slides version includes very detailed directions and examples so students can complete it independently with less jumping around. It also solves the issue that some teachers have had with Google Sites being blocked on their school network.***
There are 5 different activities/challenges for students to complete:
-Area & Perimeter in Google Forms™
-Line Plot in Google Slides™ (includes fractions)
-Word problems in Google Forms™ (includes elapsed time, money, etc)
-Jigsaw puzzle with a capacity problem
-Measurement conversions in Google Sheets™
*Please see the preview video for a more in-depth look at each activity.
Teacher instructions and answer keys/codes are included. However, you do not need to check student answers since they will not be allowed to advance to the next activity unless they crack the code.
This product will work on iPads, laptops and Chromebooks as long as you have internet access and a free Google™ account. Please make sure that your students can access Google Slides™ and Google Sheets™. (If you are working on iPads then you will need to have the free Google Slides and Google Sheets™ apps downloaded in order for your students to edit the slides.)
Try my FREE digital escape room HERE to get a feel for the activities.
This escape room is meant to be challenging and will take approximately 45 minutes, depending on your students' ability levels. If they don't finish in time, you can have them save their codes on scratch paper to quickly re-enter at a later time.
Be sure to check out my Measurement Digital Centers, and my other digital escape rooms:
All of the above escape rooms are included in this money-saving GROWING BUNDLE.
Teaching Duration
45 minutes
Report this Resource to TpT