Digital Essay Writing: Word Choice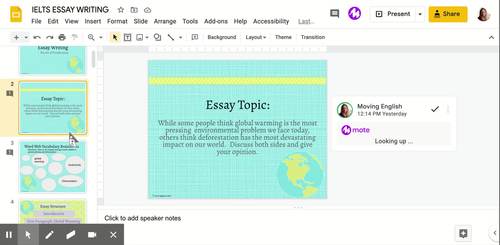 ;
PDF

Google Apps™
Includes Google Apps™
The Teacher-Author indicated this resource includes assets from Google Workspace (e.g. docs, slides, etc.).
Description
This is a digital writing activity that I use with my adult ESL students who are preparing for the IELTS and TOEFL IBT exam and who need practice with word choice and sentence structure in essay writing. The essay topic is about two environmental issues: global warming and deforestation. Students are given a structure to plan their essay and I help them brainstorm related vocabulary words. I give them a step-by-step process for writing their essay and constructing their paragraphs.
I can imagine this activity would work for high school ESL students, but I've never tried it. The goal of this lesson is to help students learn how to paraphrase. I use a two-step strategy: 1) word choice. Students are presented with a number of "drag and drop" activities to substitute words in the sentence with a variety of synonyms, which is fun and interactive. 2) sentence structure. Students learn to put the second clause of the sentence first, playing with paraphrasing ideas through sentence structure.
*There are audio instructions on every slide so students can do this independently
*There are transition words to help students use more transitional language in their paragraphs
Report this resource to TPT
Standards
to see state-specific standards (only available in the US).
Write arguments to support claims in an analysis of substantive topics or texts, using valid reasoning and relevant and sufficient evidence.
Introduce precise, knowledgeable claim(s), establish the significance of the claim(s), distinguish the claim(s) from alternate or opposing claims, and create an organization that logically sequences claim(s), counterclaims, reasons, and evidence.
Develop claim(s) and counterclaims fairly and thoroughly, supplying the most relevant evidence for each while pointing out the strengths and limitations of both in a manner that anticipates the audience's knowledge level, concerns, values, and possible biases.
Use words, phrases, and clauses as well as varied syntax to link the major sections of the text, create cohesion, and clarify the relationships between claim(s) and reasons, between reasons and evidence, and between claim(s) and counterclaims.
Establish and maintain a formal style and objective tone while attending to the norms and conventions of the discipline in which they are writing.