Digital Games 1-Year Subscription - Language & Math Games - Speech Therapy Games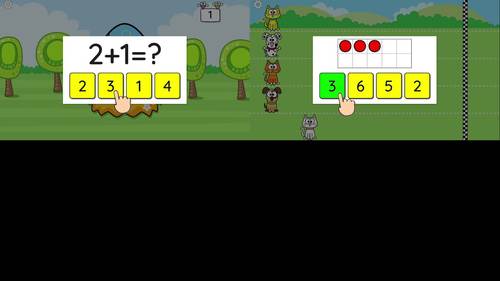 ;
Compatible with Digital Devices
The Teacher-Author has indicated that this resource can be used for device-based learning.
What educators are saying
I buy this every year!! I love it and the kids love it!! The fact that I can add my own questions and also search for questions!!! Very engaging!!!
I love that you can search for games with the skill you are teaching. My kids ABSOLUTELY LOVE these games. They will even choose to do them during their free time! Thank you so much!
Description
Review any subject in a fun and engaging way with this 1-year all access pass to my digital learning games for any device including iPads, interactive whiteboards (SMARTBoard, Promethian, Mimio) and computers. With a growing library of games and the ability to make your own questions, you can tailor the games to your students' exact needs.
Tens of thousands of teachers from around the world including Speech Language Pathologists, Classroom Teachers and Special Education Teachers have had great success in using our games to keep students engaged in the classroom, during therapy sessions and at home while distance learning.
Note: An internet connection is required to play the games.
A Classroom Teacher commented:
"If I could reach through the computer and give you a hug for all of the JOY and EXCITEMENT you have helped foster, I would! My students absolutely adore these games. I love the amazing catalog of games that are enriching, challenging, and engaging. This is the BEST PURCHASE I have made from TPT."
A Speech Language Pathologist commented:
"TO SAY THIS HAS BEEN A LIFE SAVER WOULD BE AN UNDERSTATEMENT. Thank you for making teletherapy so engaging for my kiddos and I during the pandemic. My kids loves these games and I love how I can add my own questions. I use my Pink Cat Games membership literally every single day."
A Special Education teacher commented:
"In twenty years of teaching special education, this was the best resource that I have ever owned. It is our third year renewing. LOVE IT"
FANTASTIC FEATURE #1 – Students can Play at Home during Distance Learning
A 'Student Link' is available that you can send to parents or post in your Learning Management System (Google Classroom, Seesaw, Clever etc) so that students can play the games at home. Students do not need a login or password so it is very quick and easy for them to access their games through the link.
FANTASTIC FEATURE #2 – Access to all Current and Future Games for 1 Year
This 1 year subscription will give you full access to all of the games that are on the pinkcatgames.com website for one year (365 days). I will be constantly adding new games which will automatically become available to you through the subscription. Please view the 'Preview' to see all of the games that are currently available. After 1 year when your subscription expires, you can renew it for another year by purchasing this 1 year subscription again.
FANTASTIC FEATURE #3 – Make your Own Questions
Create questions for any subject in any language! An easy-to-use question editor allows you to quickly make questions. Enhance your questions by choosing from over 3000 clip art images and photographs that are provided or use your own images. Make questions for math, speech therapy, languages, science, history or any topic you can think of. Just type them in once and then use them in any game.
FANTASTIC FEATURE #4 – Choose from Hundreds of Teacher Made Question Sets
Many teachers who play our games have made their question sets public so that you can use them too! Save time by searching for questions before you make your own as you may find exactly what you need has already been created.
You can even make your questions public so that other students and teachers can benefit from what you have created.
FANTASTIC FEATURE #5 – Easily Save Game Settings & Differentiate
You can create many saved games, each with different questions and settings so that you can quickly choose a game to play at a future time. You can also easily assign differentiated games to groups or students so they can play at school and at home.
FANTASTIC FEATURE #6 – Play on Many Devices
Play on interactive whiteboards, tablets and computers. Perfect for whole class, centers or individual play.
FANTASTIC FEATURE #7 – Track Student Progress
Turn on Student Progress Tracking to keep track of when students accessed games and how well they performed in those games. The reports vary in detail from a general overview of time spent playing, to a detailed report of errors your students made in the games. 
FANTASTIC FEATURE #8 – Great for Teletherapy
Our games provide a fun way for SLPs to keep their clients engaged during teletherapy and in-person. The games can be used to practice targets and as reinforcement.
Game Format:
The games run directly from the pinkcatgames.com website. The website was created so that you can easily play and manage your Pink Cat Games. The website also allows you to easily save game settings with the option to assign games to students and groups. The first time that you visit the website you will be asked to create an account to manage your games. The following browsers are supported: Chrome, Firefox, Microsoft Edge, and Safari.
How to Renew Your Subscription: If you have already purchased this subscription and want to renew for another year, please purchase an additional license by clicking on the "Buy additional licenses" button. Then download the product PDF from your TPT account and you will see instructions on how to add the new license to your account on the Pink Cat Games website.
Terms of Use:
All content in the games subscription is the copyrighted property of Pink Cat Studio Inc. You are granted permission to use this game subscription for your personal classroom and non-commercial use. You may not share, sell, trade, or redistribute this game subscription in any way. You may not share your Pink Cat Games account or your subscription with another person.
EOYAct BTSAct FllAct HllAct ValDay pcg dlg dmg ddsbdg plvldg gsdg nbctdg mltdvdg swdg vsdg cvcdg wfdg dbdg bldwsdg tmdgt bcdgt spdgt wsdgt srtdgt mmdgt qsdgt mpdgt
Report this resource to TPT