Digital Interactive Book for Early Intervention and Apraxia l Early Word Shapes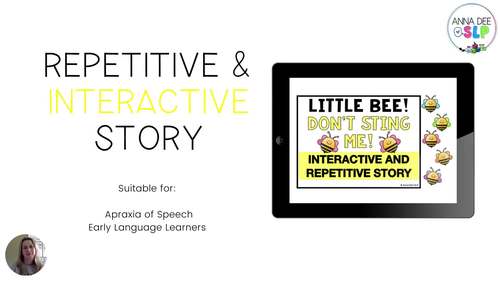 ;
What educators are saying
Love the repetitive nature of the story! My student was independently describing where the bee goes by the end of the story!
I love this repeatable book as do my kids! I've even copied and printed it so they can practice at home. Thanks!
Also included in
Add these fun and engaging speech therapy activities to your preschool speech therapy toolkit. These repetitive books are appropriate for students who have Apraxia of Speech, Expressive Language Delays, Articulation Delays, and/or Phonological Delays. The speech therapy books can be used with toddle

Price $18.80

Original Price $23.50

Save $4.70

Digital play-based speech and language activities and time-saving resources that you can use with ANY STUDENT on your preschool therapy caseload! This bundle is designed for DISTANCE LEARNING, but all of the resources can be used during in-person sessions.This is a MEGA bundle, which means it includ

Price $148.75

Original Price $185.94

Save $37.19
Description
Use this fun and engaging storybook with your children with Apraxia of Speech, during Early Intervention, or with your Preschool Speech Therapy Caseload. This story is repetitive, interactive, and features plenty of early word shapes! The bright pictures and little bee make this story a perfect addition to your preschool spring lesson plans! Target word shapes, prosody, spatial concepts, body parts, grammar, and more!
This repetitive story is about little bees who just want to sting! On each page a little bee stings a different person. The child is able to choose a bee and complete the scene on each page.
The child can fly the bee around the screen while you read the text. The text is playful, simple, and clear and provides ample opportunities to practice a variety of goals.
The following words are featured in the story:
V: Ooh!, Eye
CV: Bee, Too, Me, So, High, See, My, Knee
VC: Ouch!, Up
CVC: Buzz, Head, Nose, Face, Foot, Leg
VCV: Oh no!
THERAPY IDEAS
Vocabulary
Sentence Length
Early Word Shapes
Body Parts
Requesting
Intonation
Spatial Concepts
Want to try it out for free? Check out the Product Previewon BOOM!
If you love this BOOM card, you may also be interested in:
Play Based Articulation Games for Speech Therapy: BOOM Cards
Play Based Boom Card Bundle 1.0
If you have questions, please contact me at annadeeslp@gmail.com. I am more than happy to answer any questions you may have.
PLEASE NOTE:
To use Boom Cards, you must be connected to the Internet. Boom Cards play on modern browsers (Chrome, Safari, Firefox, and Edge). Apps are available for modern Android, iPads, iPhones, and Kindle Fires. For security and privacy, adults must have a Boom Learning account to use and assign Boom Cards. You will be able to assign the Boom Cards you are buying with "Fast Pins," (a form of play that gives instant feedback to students for self-grading Boom Cards). For assignment options that report student progress back to you, you will need to purchase a premium account. If you are new to Boom Learning, you will be offered a free trial of our premium account. Readhere for details: http://bit.ly/BoomTrial.
–––––––––––––––––––––––––––––––––––––––––––––––––––––––––––
Let's Connect!
FOLLOW MY TPT STORE: Click "Follow Me" on my Store Page. I send alerts with sales and any new freebies that have been posted!

FOLLW ME ON INSTAGRAM for product demos, play therapy ideas and all things speech related.

CHECK OUT Anna Dee SLP on FACEBOOK for articles and my favourite online resources.

SUBSCRIBE TO MY NEWSLETTER to be the first to get Subscriber Only Freebies, learn Play-Based Therapy tips and tricks, and stay informed about new products and promotions!
Report this resource to TPT