Digital Language Tiles for Google Drive™ Teletherapy Activity Vocabulary Game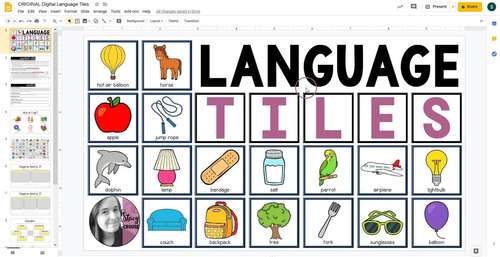 ;
PDF

Google Apps™

Internet Activities
PDF links to Google Slides activity
Includes Google Apps™
The Teacher-Author indicated this resource includes assets from Google Workspace (e.g. docs, slides, etc.).
What educators are saying
My students really enjoy using this both in person and virtually. It goes well with EET. I even have students request to play "Hide the dot."
Great language activity to use during distance learning. Perfect for categorization, describing, and inferencing. Thanks so much!
Description
This is a versatile GOOGLE SLIDES™ activity that targets tons of language goals, including asking and answering questions, describing and categories. It's perfect for individual students and groups to use in teletherapy via screen share!
The download is a PDF which contains a link to click to add this activity to your Google Drive™ as a Google Slides™ activity. You must have a Google account (which is free) to access this activity.
This resource contains several different activities/goals, including:
Secret Tile: One person hides the red chip under a tile while the others ask questions to figure out where the chip is. This is great for targeting asking and answering questions (a visual is included to help students know what sorts of questions to ask, if needed!)
Categories: Sort tiles into 2 or 3 categories
Description: Use the visual provided to describe the features of a chosen tile.
Compare and Contrast: Tell how the objects on 2 tiles are alike and different.
Create a Story: Choose a set of tiles to create a story.
Create Your Own Tiles: Use the tile templates to add your own images and text.
Check out these other activities to be used in Google SLIDES™:
Connect With Others Get To Know You Activity
Articulation Dots and Boxes Game
Fix for Mixed Groups No Prep Speech and Language Activity
National Park Digital Guidebook Interactive Notebook
To learn more about using GOOGLE SLIDES™ in teletherapy, check out this FREE VIDEO and this BLOG POST!
Total Pages
PDF links to Google Slides activity
Report this resource to TPT