Digital Letter Recognition Reading Passages & Activities | Letter Names Practice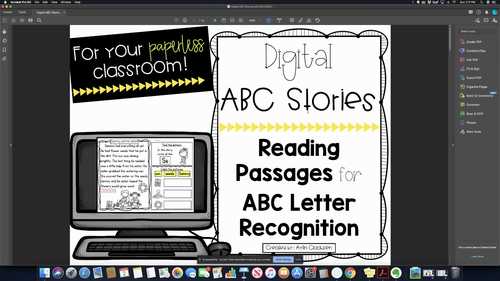 ;
PDF

Google Apps™
Includes Google Apps™
The Teacher-Author indicated this resource includes assets from Google Workspace (e.g. docs, slides, etc.).
What educators are saying
These were great for my on and below level students. I also use them in my online intervention groups.
My students love these! I use them each week for our alphabet study. They love to complete the activity.
Description
This is the DIGITAL format of my ABC Stories for Letter Recognition, which are all set up within Google Slides. These are great to use during distance learning to help your students make progress with letter recognition. They can also be used when in the classroom.
Everything is done within Google Slides. Teachers and students simply need access to Google Slides. (These are best shared via Google Classroom.) Students can complete the letter pages directly on any device. Students will move the provided pieces to show their knowledge of the letter.
This pack is great to use for introducing/reviewing letter names with students. I tend to notice that some of my struggling readers have a tough time immediately recognizing different letters, which makes reading more challenging. These passages give students the chance to see the letters more frequently in context. Students will be identifying the letter by finding the letter within the story and labeling pictures from the story. These passages can be used in a number of ways: whole group for introducing the letters, small reading groups/one-on-one for more intensive review of the letters, or even as homework. It is a great tool to use year round for any students who need more practice with letter recognition or simply to introduce the letters to all students!
The pack includes 26 different passages- there is a colorful teacher version and a b&w student version of each passage. The colorful teacher version can be used to introduce and read the passage, while the b&w version is to be copied for each student so they can identify the letter and label pictures that begin with that letter.
I hope this helps your little readers identify letters!
Enjoy :)
*Please download the preview to check out all that is included!
You can check out this pack in action here:
You may also like my other reading passages that I have for early readers- check out the links below!
Leveled Fluency Passages {A-M}
I Read, You Read Passages for Home
Report this resource to TPT