Digital Math Centers Google Classroom Morning Work Seesaw Activities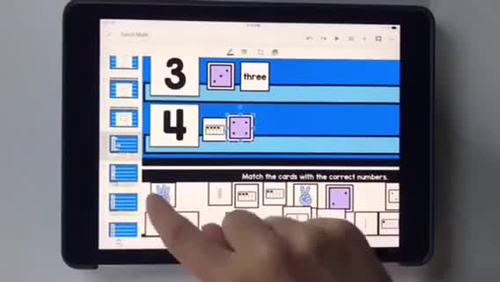 ;
Zip

Google Apps™

Internet Activities
Includes Google Apps™
The Teacher-Author indicated this resource includes assets from Google Workspace (e.g. docs, slides, etc.).
What educators are saying
This is so convenient! I use Google Classroom and I have been using this as my math warm up. It's super easy to assign these each day to my students as a routine.
Also included in
Google Slides Digital Activities and Templates Bundle is discounted to help you save BIG. This set of digital and Google Classroom activities includes everything you need to run a smooth classroom, but with the added benefit of integrating technology to make routines, classroom management and studen

Price $116.44

Original Price $129.38

Save $12.94

Digital Writing Math Phonics Bundle is 175+ interactive slides of no prep, digital word work activities in three formats are perfect. A Powerpoint version (also works in Keynote) AND a Google Slides version AND a preloaded Seesaw version, complete with moveable pieces for students to complete word w

Price $35.00

Original Price $37.50

Save $2.50
Description
These digital math activities are perfect to use throughout the year. Included you will find a Seesaw AND Google Slides AND Powerpoint version, complete with moveable pocket chart cards that students drag on their screen. If you've been looking for a way to integrate technology into your classroom, this is your answer. And the best part is you don't have to print, cut, laminate, or replace when you lose pieces....it's all DIGITAL! Use in whole group, small group, homework, or as a center. All of the skills are in a single file in the Google version, but you can separate them as needed (just create a copy and delete the slides you don't want to assign to students).
This resource includes over 45 different activities in a single digital document that focus on the following skills:
Number writing (tracing 0-9)
Number sense
Making 10
Inequalities (greater than, less than, equal to)
Patterns
+10, -10, +1, -1 (editable--you choose the number!)
Hundreds chart (editable--fill in the numbers you want to have seen)
Number bonds (editable--you choose the number!)
Word problems
Place Value
Addition and subtraction with place value manipulatives (editable--you create the equations!)
Addition and subtraction on a number line with moveable frog to "hop" along (editable--you create the equations!)--includes a blank open number line as well
Fractions (1/2 through 6/6)
U.S. Money (Coin identification for penny, nickel, dime, quarter, money poem, value of a word game, adding coins up to $1)
Telling Time
Geometry (2d and 3d shape identification)
Measurement (standard length centimeters/inches and nonstandard units)
Graphing
Multiplication
Division
This resource includes 1-2 activities for most of the skills listed above, and they are all reusable so are intended to be used multiple times as practice activities.
The Google and PowerPoint versions are a single file that you can assign any set of selected slides you want to your students at a single time. The Seesaw version includes 7 separate files (per Seesaws limit of 20 slides per file).
This is not an app and does NOT have sound or a "click to see if the answer is right" option for students.
You can find more DIGITAL resources here!
© Teaching in the Tongass
Seesaw, Google Drive™, Google Slides™, and Google Classroom™ are trademarks™ or registered® trademarks of their respective holders. Use of them does not imply any affiliation, sponsorship with or endorsement by them.
Digital Resources You Might Also Like:
⭐ Calendar Math Morning Meeting
⭐ Book Club Activities Literature Circles
⭐ Phonics Math Writing Pocket Chart BUNDLE
⭐ Stickers
Report this resource to TPT
Standards
to see state-specific standards (only available in the US).
Count to 100 by ones and by tens.
Count forward beginning from a given number within the known sequence (instead of having to begin at 1).
Write numbers from 0 to 20. Represent a number of objects with a written numeral 0-20 (with 0 representing a count of no objects).
Understand the relationship between numbers and quantities; connect counting to cardinality.
When counting objects, say the number names in the standard order, pairing each object with one and only one number name and each number name with one and only one object.