Digital Math Spiral Review 3rd Grade Paperless Morning Work Google Forms Math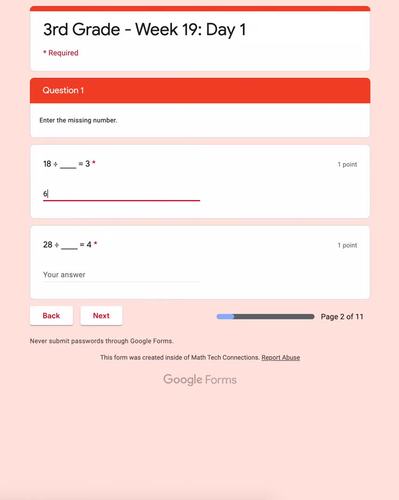 ;
Zip

Google Apps™
Includes Google Apps™
This bundle contains one or more resources with Google apps (e.g. docs, slides, etc.).
What educators are saying
This was the BEST purchase I've made in years!!!! Easy for me, quick and painless for the kiddos. LIFESAVER.
I used this resource as an activity to review skills on an upcoming test. The students enjoyed the activity.
Products in this Bundle (4)
Also included in
If you have access to Google Classroom, this Third Grade Digital Math Bundle will save you time and make math fun! This bundle includes math centers, spiral review, and assessments made specifically for use with Google Classroom.What's included?- Google Slides: Interactive slides that cover all thir

Price $71.73

Original Price $143.46

Save $71.73

Spiral review is important. It increases retention and gives students extra practice which leads to mastery. This 3rd grade spiral review bundle includes both PRINT and DIGITAL format. - The printable format includes daily math, grammar, and phonics review. - The paperless format is made up of self-

Price $27.98

Original Price $55.96

Save $27.98
Report this resource to TPT
Standards
to see state-specific standards (only available in the US).
Tell and write time to the nearest minute and measure time intervals in minutes. Solve word problems involving addition and subtraction of time intervals in minutes, e.g., by representing the problem on a number line diagram.
Measure and estimate liquid volumes and masses of objects using standard units of grams (g), kilograms (kg), and liters (l). Add, subtract, multiply, or divide to solve one-step word problems involving masses or volumes that are given in the same units, e.g., by using drawings (such as a beaker with a measurement scale) to represent the problem.
Draw a scaled picture graph and a scaled bar graph to represent a data set with several categories. Solve one- and two-step "how many more" and "how many less" problems using information presented in scaled bar graphs. For example, draw a bar graph in which each square in the bar graph might represent 5 pets.
Generate measurement data by measuring lengths using rulers marked with halves and fourths of an inch. Show the data by making a line plot, where the horizontal scale is marked off in appropriate units-whole numbers, halves, or quarters.
Recognize area as an attribute of plane figures and understand concepts of area measurement.