Digital Morning Meeting | 1st Grade Morning Meeting Slides Activities BUNDLE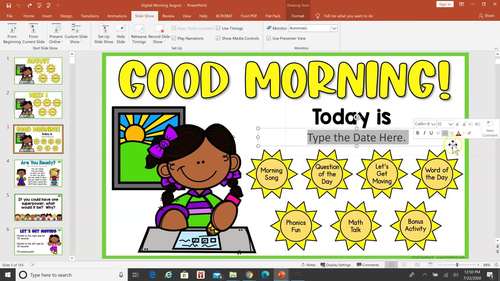 ;
What educators are saying
During distance learning I needed a way to start my Zoom lessons while we waited for everyone to log on. This was very helpful.
We loved this every morning! It helped with skills throughout the year! My kids especially love watching the videos!! Thank you!
Products in this Bundle (11)
showing 1-5 of 11 products
Description
A digital morning meeting is the perfect way to start your day! These 1st grade morning meeting slides are great whether you are in the classroom or teaching virtually! Your 1st grade students will be engaged while you work through each of the morning meeting slides together as a class. Students will review phonics, math and vocabulary during each morning meeting! You will love the engaging discussions that your 1st grade students have during morning meeting as you use these digital morning meeting activities!
This 1st grade digital morning meeting slides resource includes:
1st grade morning meeting slides for August
1st grade morning meeting slides for September
1st grade morning meeting slides for October
1st grade morning meeting slides for November
1st grade morning meeting slides for December
1st grade morning meeting slides for January
1st grade morning meeting slides for February
1st grade morning meeting slides for March
1st grade morning meeting slides for April
1st grade morning meeting slides for May
1st grade morning meeting slides for June
All morning meeting activities are in PowerPoint. This makes it easy for you to type in the date and any other information you need. It's also easy to present and has clickable links!! You'll love them all!
Each digital morning meeting slide includes:
A morning song
A question of the day
A let's get moving activity
A word of the day
A phonics review activity
A math talk slide
A bonus activity (video, picture discussion, or character building discussion)
Each month has a digital calendar. You will be able to type in the month, days of the week, and dates on each calendar. You can even add special events, holidays, and birthdays when you edit your calendar. There are movable base ten blocks and weather symbols, too!!
This is perfect for:
Using in the classroom with your projector
Using virtually with Zoom
Morning meeting time
Please note that the provided video links are linked to YouTube, so you will want to make sure that these links are not blocked at your school.
This file is a PowerPoint presentation with flat backgrounds. This means that you will be able to type the date on each slide, but you will not be able to move or change any of the other clipart or text. You will be able to delete or move around slides if needed, but please be aware that this may mess up the links that are set to guide you through each week. 
These digital morning meeting slides will also work in Google Classroom if you use it in presenter mode. The links will also work.
⭐ Please see the VIDEO PREVIEW to get a detailed look at a sample week!
See What Other Teachers are Saying. . .
⭐⭐⭐⭐⭐  Deandra says, "I LOVE this resource! I have used this both with my distance learning students and my in person students and it is extremely engaging and low stress. My kids love the songs and I love all of the different components. I am never able to get to all of the components but I love having all of the options. It keeps it fresh and exciting for my students."
⭐⭐⭐⭐⭐  Jennifer says, "This resource is INCREDIBLE! I have used it in-person with my class since September. We went remote right before Thanksgiving and the transition for Morning Meeting was seamless. The kids are super engaged. The "Question of the Day" is our favorite! Best.Purchase.Ever!!! :)" 
⭐⭐⭐⭐⭐  Margaret says, "This resource is a game-changer during hybrid teaching! My students love every facet, especially the movement and the word of the day! I have both at-home students and in-school students use the word of the day in a sentence then Seesaw it to me so both myself and parents can see how they are doing! Also great vocabulary-building activity! I can't say enough about it! Thank you!!!" 
More Fun and Engaging Resources from Fun in First!
→
→
→
Follow me on TpT:
Be the first to know about new products, sales, and freebies.
Look for the ★green star★ next to my store logo and click it to become a follower.
Connect with Me
Visit my blog at www.funinfirst.com
Having difficulty with a file? Visit the FAQ's section, submit a help ticket, email me, or ask a question on the Q&A tab before leaving feedback.
Copyright © Jodi Southard
Permission to copy for single classroom use only.
Please purchase additional licenses if you intend to share this product.
Report this resource to TPT