Digital October Writing for Google Classroom™ & Seesaw™ Distance Learning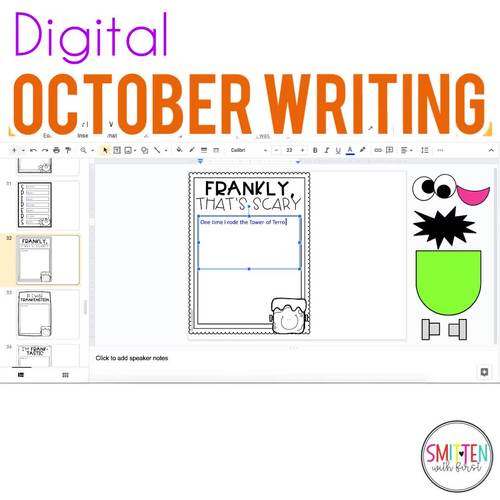 ;
Zip

Google Apps™
Includes Google Apps™
The Teacher-Author indicated this resource includes assets from Google Workspace (e.g. docs, slides, etc.).
What educators are saying
My students loved this station activity. It is now one of their favorites. Thank you for the resource!
I loved that I could assign an activity in Seesaw to my remote kids that was similar to the one I did with the in person kids. Thank you so much! My kids loved it.
Description
This listing is for Digital October Writing Prompts, Halloween Writing, Drug Free, Bats, Spiders, Frankenstein, and Columbus Day Writing Prompts and Activities! They include writing prompts and a craft (™ and ™) for each month with several prompts to choose from! These writing activities can be used in PreK, Kindergarten, 1st grade, 2nd grade, or even 3rd grade!
Write-tivities include:
-several writing prompts (see prompts listed below) with moveable pieces to make a craft (Google Classroom™) and coloring templates (Seesaw™). There are no moveable pieces for Seesaw™
PLEASE READ:
-You will need a Google Classroom™ and/or Seesaw™ account to use this resource. Only directions on how to use these resources within these programs are included.
-There are moveable pieces to make a craft and a copy link included for Google Classroom™
-There are PNG templates included for Seesaw™. There are no moveable pieces for Seesaw™ or preloaded activities.
-If you would like the printable version of these writing templates and craftivities, those will need to be purchased separately HERE.
**blog post here**

Craftivites included:
Bat
Pumpkin
Monster
Spider
Frankenstein
Columbus Day
Writing prompts inlcuded:
Bat
I Bat You Don't Know
Going Batty
If I Had a Pet Bat
Bats
My Spook-tacular Bat
My Bat Story
BATS acrostic poem
Pumpkin/Jack-o-lantern
How to Carve a Pumpkin
Pumpkin Life Cycle
If I had a Magical Pumpkin
Pumpkins
My Pumpkin Story
My Jack-o-lantern
Pumpkin acrostic poem
Orange You Glad to be Drug Free?
Monster
My Monster Story
Monsterously Fun
If I had a Pet Monster
Monsters
MONSTER acrostic poem
When I feel Wild
Scare Away Drugs
Spider
Creepin' it Real
All Caught Up
Spiders
SPIDER acrostic poem
Spider Life Cycle
If I was a Spider
My Spider Story
Creepy Crawlers
Don't Get Caught Up in Drugs
Frankenstein
Frankly, that was Scary
I'm Frank-tastic
Frankenstein
If I was Frankenstein
My Frankenstein Story
Frankly, Drugs are Not Cool
Christopher Columbus
I'm an Explorer
If I Discovered America
1492
Christopher Columbus
COLUMBUS acrostic poem
The Santa Maria
Sail the Ocean Blue
**Please know that by purchasing this resource you are purchasing the rights to use these activities in a single classroom. If you plan to share this resource with other teachers, additional license(s) will need to be purchased.
Report this resource to TPT