Digital Pragmatic Language Activities for Social Language Speech Therapy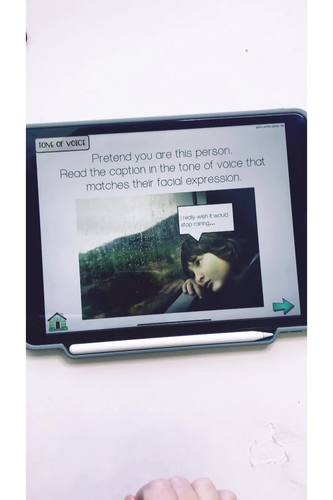 ;
What educators are saying
I'm always struggling to find pragmatic language therapy activities. I love the variety of activities!
This has been a game changer for my social skills kiddos! Great screening or progress monitoring tool... I love it!
Also included in
$175+ value once completed! These handy digital cards are perfect for teletherapy, distance learning, or just to have in face to face sessions to grab-n-go! Target language, articulation, phonological processes, and more all in one comprehensive digital resource! Use these versatile tools in therapy

Price $99.40

Original Price $142.00

Save $42.60
Description
This versatile tool can be used for teletherapy or in person speech therapy sessions to progress monitor, screen, assess, or use during intervention of children with difficulties with social language skills. It also includes editable PDF data forms. Save time, energy, and printing!!
This tool includes the following targets:
Emotions (receptive and expressive)
How would you feel
How would they feel
Facial expressions (real pictures and "act it out")
Tone of voice (real pictures)
Manners
Appropriate behaviors (expressive and receptive)
Appropriate topics
Problem Solving (3 levels: size of problem, ID and solve problem-with choices, ID and solve problem-no choices)
Perspective taking (real pictures and "name two things" activity)
Initiating conversation (real pictures)
Topic Maintenance
Taking turns in conversation (real pictures)
Asking questions (two levels: appropriate/inappropriate ID and real pictures)
Answering personal questions
*Each level includes 10 targets.
INCLUDES EDITABLE PDF DATA SHEET: simply input data on the computer or iPad with an editable form or print. The PDF form totals and calculates percentages for you!
HOW IT WORKS:
This resource is a clickable PDF. You do not need an app. Simply download to your computer or iPad. You will click through the resource deciding which language target to address.
This resource includes an editable PDF data sheet. You can click in the boxes to insert data while on your computer or iPad or you can print the data sheets out if you prefer.
***This resource pairs perfectly with my pragmatic language visuals!***
MORE SPEECH TEA NO PRINT TOOLS:
No Print Articulation Leveled Bundle
No Print Apraxia-CVCV, CV, VC, VCV
No Print Phonological Processes Leveled Bundle
*This resource is also included in The Speech Therapy Toolbox!*
WHY NO PRINT?
ALWAYS have it with you!
Perfect for on-the-go therapy!
No storage required!
---------------------------------------------------------------------------------
CUSTOMER TIPS:
FREE money (TpT credits) for leaving feedback:
• Go to your 'My Purchases' page. Next to each purchase you'll see a 'Provide Feedback' button. Each time you give feedback on paid purchases, TPT gives you credits that you use on your future purchases (AKA reduced or even freeee products!). I LOVE reading your feedback!!
What's the green ★ for?:
• Click the green star to become a follower. You'll be the first to know about freebies, sales, and new products. All new products are discounted 50% off the first 24 hours as a big thank you for following along.
As always, please contact me with any questions at erin@speechtea.com.
Thank you so much!
Erin Larsen
-------------------------------------------------------
Let's connect!
Report this resource to TPT