Digital Word Work 121 Activities for Phonics Google Classroom Distance Learning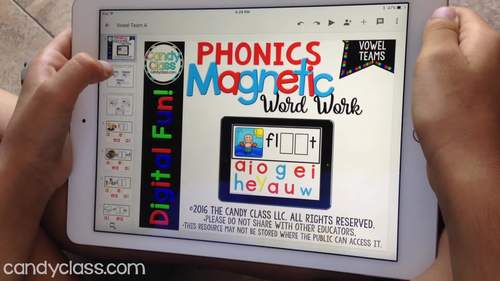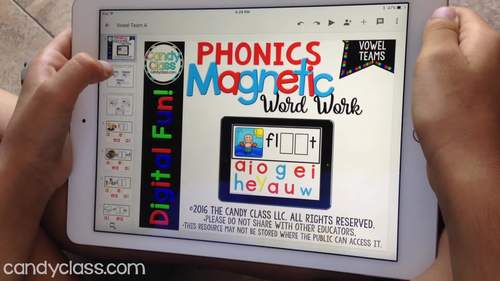 Created By
The Candy Class
Format
This TpT Bundle may contain a variety of file types.
 (
over 3400
)
 Digital Resource for Students
The Teacher-Author has indicated that this resource is made for device-based learning.
Products in this Bundle (8)
showing 1-5 of 8 products
Link to Everything Organized in One Spot from this PDF
Also included in
This bundle includes all 98 of my digital resources that are for Google Classroom use in my store. This massive bundle includes phonics, guided reading, spelling, sight words, grammar, vocabulary, and writing activities!This bundle is back on sale for a limited time, so I can support other teachers

$144.00

$360.00

Save $216.00
Bundle Description

Standards
Are you looking for some hands-on phonics activities for your students, but you don't have hours to laminate and cut it out? These hands-on, no prep phonics word work cards will save you time and provide students with so many interactive activities! This innovative, digital resource provides differentiated levels! It actually includes, get this, 121 files! I am serious! That is 121 phonics centers that are ready to use with no cutting and laminating! It adds up to 3,400 organized slides (pages) that covers 871 words total! Yup, this paperless resource can be used all year long!
This resource is now included in both Google Slides and PowerPoint, so that it is versatile for use in many classrooms. It was the first of its kind on this site with word work going digital for Google Classroom use with digital magnetic letters! The digital magnetic letters look real too! I designed them myself using professional graphic designer software to give them a realistic effect.
What is included in this Phonics Digital Word Work Extreme Bundle?
It includes the following 8 resources for Google use!
•Blends Digital Magnetic Word Work Cards
•Bossy R Digital Magnetic Word Work Cards
•Short Vowels/ CVC Digital Magnetic Word Work Cards
•CVCe Digital Magnetic Word Work Cards
•Digraphs Digital Magnetic Word Work Cards
•Diphthongs Digital Magnetic Word Work Cards
•Ending Blends Digital Magnetic Word Work Cards
•Vowel Teams Digital Magnetic Word Work Cards
•A Bonus PDF file with a link to a single, organized spreadsheet that gives you access to all in one spot for the ones in Google Slides format!
•Clear step-by-step teacher directions with screenshots on how to make a copy of the file to your drive, how to assign it in Google Classroom, and how students will access the file. Additionally, I have a FAQ section in the main pdf and my contact information for additional assistance.
Did I also mention this resource for phonics can be used on tablets? Say what? Yup, you can use this on a tablet, computer, or you can even project them onto an interactive whiteboard!*
Not only that, but this resource stands out from simple phonics games on tablets because it automatically saves their work when used with Google Slides or PowerPoint online. That means accessibility to view their phonics work for assessment purposes and more!
You are saving a bunch with this Phonics Digital Magnetic Letter Word Work Extreme Bundle! It includes 8 digital word work phonics bundles (listed below)! Those bundles total $66. You save over 30% with the bundle! That is like getting some free sets!
If you already use Google™ Classroom, you only need to simply assign students a file and you are set! It is simple like handing them a sheet of paper. I have broken these down into chewable chunks of 12-48 word work cards per a file and there is plenty to choose from for differentiating your phonics instruction too.
If you are using the ones in PowerPoint format, you can also easily assign to your students via a learning management system or Microsoft Teams.
If you are not using an LMS, you can easily use a folder system in Microsoft OneDrive. (Please see tech specs below.)
If you are using it for teacher led instruction, you can use Google Drive also. Simply open the file and use it. You can project it with either an interactive whiteboard or use a tablet or computer with a small group.
Please view the preview for more details about this resource.
What I LOVE about using Online Digital Resources:
•Paperless
•Their work saves automatically!
•Because their work saves automatically, I can easily check their phonics work (and not bring home a heavy bag full of paper clutter!)
•They can't glue the expensive magnetic letters to a paper card, but they can save those digital magnetic letters on that card for easier assessing!
•Kids love using technology. It's engaging, phonics activities!
•It is still hands-on like a real word work card with magnetic letters. They still have to slide those letters on that card for developing their phonics skills.
•All the letters are ALREADY organized! No messing with a bunch of letters in smeared, labeled baggies. This makes it so much easier for differentiating your phonics instruction without having to do a thing, except assign the appropriate file to each student! Easy, simple, bam! Now, that is what I am talking about!
What about differentiation? For emerging, I paired letters together such as bl, ay, ow, etc. For intermediate levels, I upped the challenge by only providing individual letters that the students will need to pair together. For students who need even more challenge, they can type a sentence with the word on the slide.
***Technical Requirements***
This resource is included in both PowerPoint and Google Slides formats to make it versatile for many classrooms.
You will need of the following:
Option A: Google Classroom
Option B: PowerPoint (Desktop or Laptop version)
Option C: The PowerPoint app from the app store with access to Microsoft 365 and a way for students to access the files online such as via Microsoft OneDrive or a compatible LMS.
(Note: Microsoft offers Office 365 free to those with an eligible school email. That will include access the PowerPoint online and Microsoft OneDrive.)
*For Interactive Whiteboard/ Smartboard use: To use any dragging/dropping features, your interactive whiteboard will need to be compatible with editable Powerpoints or Google Slide files. Some older ones from like ten years ago lack this feature, so typically, this should work. If you can edit a Powerpoint or Google Slides file with it, then it will work.
Please make sure you have the tech requirements needed for how you plan to use this resource before buying this resource.
For more details about this resource for phonics, please view the preview by clicking on the button under the picture that says preview. It breaks everything down more clearly.
•••••••••••••••••••••••••••••••••••••••••••••••••••••••••••••••••••••••••••••
FAQs
1. I already purchased one of the resources in the bundle, can I upgrade to the bundle? Absolutely. The route TPT does this is to refund you for the resource that is in the bundle after you purchase the bundle, but you will need to reach out to them for this. You don't even need to ask my permission since that counts as a duplicate purchase under their refund policy. You can simply put in a ticket here.
2. Is there a limit to how many devices I can use this on? You can use this with every single student in your classroom. The license allows for use to all your students in your classroom, but you will need an extra license for each additional teacher.
•••••••••••••••••••••••••••••••••••••••••••••••••••••••••••••••••••••••••••••
Please note, this paperless resource is for personal, classroom use only. Also, I am not affiliated or associated with Google, nor do they endorse this resource. This resource for phonics is simply a resource that can be used with their software/apps.
Thank you so much for stopping by the Candy Class!
Jolene :)
to see state-specific standards (only available in the US).
Decode regularly spelled two-syllable words with long vowels.
Know spelling-sound correspondences for additional common vowel teams.
Distinguish long and short vowels when reading regularly spelled one-syllable words.
Know and apply grade-level phonics and word analysis skills in decoding words.
Decode two-syllable words following basic patterns by breaking the words into syllables.
Report this Resource to TpT