Digital and Printable Labor Day Word Search & Crossword Puzzles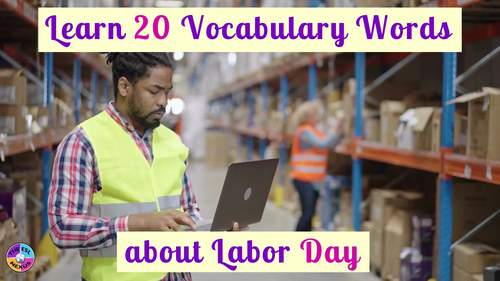 ;
PDF

Google Apps™
18 PDF Pages & 14 Google Slides
Includes Google Apps™
The Teacher-Author indicated this resource includes assets from Google Workspace (e.g. docs, slides, etc.).
Also included in
Teach your students about American holidays celebrated in June, July and September with this bundle of 5 resources! There are word searches and crossword puzzles for Flag Day, Father's Day, Juneteenth, Independence Day, and Labor Day. Each resource includes 3 word search puzzles and 1 crossword puzz

Price $13.00

Original Price $16.25

Save $3.25

These holiday word search and crossword puzzles help you teach your students about 19 Federal and other American holidays. Each resource in this bundle includes 3 word search puzzles at different levels of difficulty and 1 crossword puzzle with a word bank; print and digital versions of all puzzles

Price $50.50

Original Price $63.25

Save $12.75
Description
This Labor Day resource honors workers and, through 3 word searches and 1 crossword puzzle, helps your students learn 20 terms about this holiday for working people. Please see below for a list of the terms related to this American holiday.
✓ Please note:
★ A Boom Learning℠ resource with the same Labor Day vocabulary words is available HERE.
★ This resource is also available in a money-saving bundle that includes 4 other word search & crossword puzzle resources about American holidays. You can find the bundle HERE.
★ A couple of the words used in these puzzles are also used in other resources in this product line: New Year's Day (1 word), Memorial Day (2 words), Independence Day (2 words), and Veterans Day (1 word). When you use these resources as well, you'll reinforce your students' learning!
★ You can also find this resource in a larger money-saving bundle with puzzles for 18 more American holidays; it's available HERE.
Resource at a Glance:
★
20 vocabulary terms related to Labor Day.
★
All students, including English Language Learners.
★
* It can supplement your teaching about the labor movement and/or workers rights in the United States.
* It can extend students' learning when you teach about different types of jobs and careers.
* Use it when you teach about American holidays.
* The puzzles can be given for homework, used in a center, given to early finishers, or used by all students when there is some extra time at the end of a class period.
* With both printable and digital versions, it can be used for both in-person classes and distance teaching.
* The digital version gives students practice using some technology skills.
<><><><><><><><><><><><><><><><><><><><><><><><><><><><><>
What you get in this Labor Day product:
★ A list of materials in the PDF and Google Drive™ files (1 page)
★ Notes to the Teacher (explanatory information for teachers) (1 page)
★ Instructions for accessing the Google Drive™ materials (1 page)
★ Instructions for doing the online versions of the puzzles (4 pages)
★ 3 word search puzzles with answer keys (6 pages)
★ Word bank for the crossword puzzle (1 page)
★ 1 crossword puzzle with answer key (2 pages)
★ Copyright, related products, social media, and credits information (1 page)
★ Cover page (1 page)
★ Instructions for doing the online versions of the puzzles (4 slides)
★ 3 word search puzzles with answer keys (6 slides)
★ Word bank for the crossword puzzle (1 slide)
★ 1 crossword puzzle with answer key (2 slides)
★ Cover page (1 slide)
More Info:
The word searches are available at 3 levels of difficulty, based on the direction the words are written in the puzzle, so they can meet the needs of all your students, including English Language Learners. Answer keys are provided for all the Labor Day puzzles. In addition, there is a word bank for the crossword puzzle for students who need additional support.
The terms used in these holiday puzzles are: AFL-CIO, Barbecue, Factory, Guarantee, Job, Labor, Manufacturing, Monday, Negotiate, Organize, Parade, Picnic, September, Shopping, Strike, Summer, Union, Wages, Workday, Worker. (FYI: AFL-CIO stands for the American Federation of Labor and Congress of Industrial Organizations.)
All these Labor Day puzzles include both Print and Google Drive™ versions. The PDF file contains teacher notes, instructions to access the online materials, directions for completing the puzzles plus all the word searches and the crossword puzzle with their answer keys. The Google Drive materials include instructions for using the materials, all the word search puzzles and the crossword puzzle, and all the answer keys for the puzzles.
Here are some suggestions for using this resource about Labor Day:
★ For words that may be new, you can have your students find their definitions and use those words in sentences.
★ Students can also draw pictures that illustrate the words to show their understanding.
★ More proficient students can write paragraphs or stories that include some of the words.
★ Extend your students' learning by having them record their sentences or stories online, for speaking and technology practice.
★ Ask students to write or explain orally what kind of work they'd like to do when they are adults.
★ As an extension activity, ask students to research and write about May Day (May 1st), which in many other countries is the day that celebrates workers.
You can use this resource remotely in 2 ways:
a) When teaching synchronously or asynchronously online, use the Google Drive version.
b) For students to do on their own: Photocopy the puzzle(s) you want your students to do and the appropriate answer key (if you want students to correct their work themselves) and email/send the material home. Alternatively, if students have printers, email the puzzle(s) to them and tell them to print the work out themselves. Tell students what to do and have them email/send you their work when they've completed the puzzle(s). Use the rubric to correct the work if you prefer doing that yourself.
Let your students pay tribute to everyone who works with this Labor Day resource!
<><><><><><><><><><><><><><><><><><><><><><><><><><><><><>
You might also like these products:
★ American Holiday Posters for June, July & September in Acrostic Poem Format
★ October, November & December Holidays: Word Search & Crossword Puzzles BUNDLE
★ Back to School Lesson Plans: Prehistory Pretest, Archeology Activity, Digital Poster BUNDLE
★ Viking Curriculum Unit: Explorers, Rulers, Places, Gods and Goddesses
★ Writing Resources BUNDLE: Organizing, Editing & Citing Writing, Types of Writing
★ Multilingual Welcome Posters For Classroom Decor: Polka Dot Theme
<><><><><><><><><><><><><><><><><><><><><><><><><><><><><>
If you would like to receive updates about my new products, please click HERE or on the green star under my store name at the top of your screen.
You can earn TpT credits that reduce the cost of your future purchases by giving feedback about this product. Just click on the "Comments & Ratings" tab after downloading to leave a comment and a rating. It's that easy!
Thank you and happy teaching!
© 2015 Google Inc. All rights reserved. Google Drive is a trademark of Google Inc. The ESL Nexus is the sole creator of this product and does not claim endorsement or association with Google, Inc.
Common Core Standards © Copyright 2010. National Governors Association Center for Best Practices and Council of Chief State School Officers. All rights reserved. Any claims of correlation or alignment to the CCSS Standards are solely those of The ESL Nexus and have not been evaluated or endorsed by the NGA. The ESL Nexus is the sole creator of this product and does not claim endorsement or association with the creators of the CCSS standards.
<><><><><><><><><><><><><><><><><><><><><><><><><><><><><>
Total Pages
18 PDF Pages & 14 Google Slides
Report this resource to TPT
Standards
to see state-specific standards (only available in the US).
Acquire and use accurately a range of general academic and domain-specific words and phrases sufficient for reading, writing, speaking, and listening at the college and career readiness level; demonstrate independence in gathering vocabulary knowledge when encountering an unknown term important to comprehension or expression.