Diphthongs Decodable Sentence Building Worksheets | Science Of Reading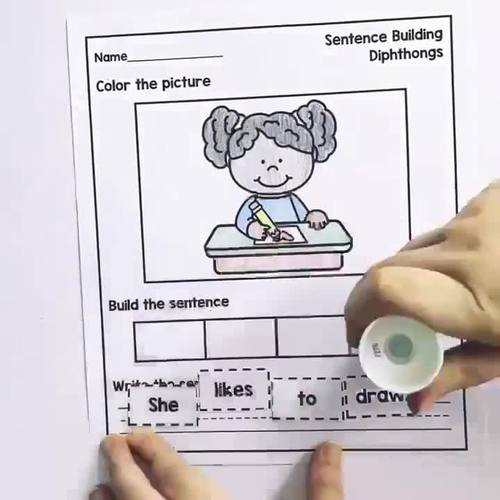 ;
Also included in
These sentence scramble worksheets are designed for kindergarten, grade 1 and grade 2. These sentence building printables are SOR aligned and ideal for phonics lessons, literacy centers or morning work. This bundle has 280 pages of sentence building worksheets.There are 7 sets of worksheets in this

Price $24.99

Original Price $34.93

Save $9.94
Description
These diphthongs sentence scramble worksheets are designed for first grade and second grade. These 40 sentence building printables are SOR aligned and ideal for phonics lessons, literacy centers or morning work.
Students simply cut, sort, and paste the words into a sentence, write the sentence, and color the picture.
au – hauls. Autumn, vault, pause, sauce
aw – straw, draw, yawn, lawn, paw
ew – grew, blew, chew, brew, dew, stew
oi – spoil, coin, boil, oil, point
oo – moon, tooth, root, room, boot
ou – snout, mouse, house, shout, loud, ground
ow – flower, howl, crown, town, bow, towel
oy – boy, annoy, destroy, cowboy, joy, toy
I, a, it, is, on, an, to, my, he, his, the, her, has, she, will, can, you, see, likes, this, went, for, with (most of which are easily decodable).
Other than that, these sentences are completely decodable with and then some CVC words such as:
pet, gum, let, big, pig, wet, dog
There are a few digraphs, blends, and CVCe words too such as:
truck, press, drink, bricks, jumps, cash, inch, witch, made, rude, cute, takes, tree, green, needs, play, car
These printables are perfect for your structured literacy classroom!
Students will work on decoding, sentence structure, handwriting, writing, fine motor AND sight words.
Whole group reading, phonics, or spelling lessons
Small group work (literacy centers)
Independent practice
Early finishers
Morning work
Assessment
Enjoy this resource! Don't forget to follow my store for more awesome products and rate this product for your TPT credits :)
Sentence Building Themed Bundle, Seasonal Bundle, Holiday Bundle, Sentence Building Big Bundle
Report this resource to TPT
Standards
to see state-specific standards (only available in the US).
Recognize the distinguishing features of a sentence (e.g., first word, capitalization, ending punctuation).
Demonstrate understanding of spoken words, syllables, and sounds (phonemes).
Orally produce single-syllable words by blending sounds (phonemes), including consonant blends.
Isolate and pronounce initial, medial vowel, and final sounds (phonemes) in spoken single-syllable words.
Segment spoken single-syllable words into their complete sequence of individual sounds (phonemes).