Directed Drawing Alphabet Mega Bundle 500+ pages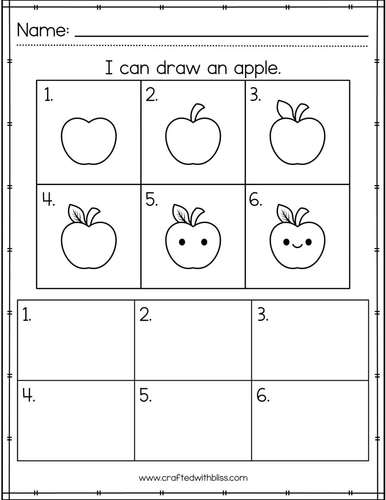 ;
Products in this Bundle (28)
showing 1-5 of 28 products
Description
The 500+ Pages Directed Drawing Alphabet Mega Bundle is a collection of instructional materials for teaching students how to draw each letter of the alphabet in a step-by-step fashion. It includes over 500 pages of resources, including visual aids, worksheets, and practice pages. This bundle is designed to help students improve their fine motor skills and handwriting abilities while also fostering their creativity and imagination.
Other Alphabet Bundle also available!
1. Directed Drawing Alphabet Mega Bundle 500+ pages
2. Alphabet Dot Markers Mega Bundle Do-A-Dot (Preschool, Sped, Kindergarten, OT)
3. Alphabet Worksheet Growing Bundle Preschool - Kindergarten (Valued at $100+)
If you are looking for affordable yet quality worksheets, feel free to check this MEGA BUNDLE! Save more by purchasing this! 500+ pages in total! This bundle is sorted by letters.
This is a fun way to learn the letters. We included 10 images that starts with each letter and is perfect for your classroom use. This is perfect for preschool, kindergarten, sped, first grade, second grade, third grade, early finishers, and homeschool setup.
The kids will learn how to draw different images that starts with each letter. This printable has step by step image instructions that they can follow. There will be two types of activities you can choose from. (Please choose what is best for your student)
Letter Aa - apple, alligator, ambulance, anchor, ant, astronaut, anteater, apron, ape, acorn
Letter Bb - bee, boat, book, butterfly, ball, banana, bear, basket, bird, balloon
Letter Cc - cone, cookie, cat, cow, cake, car, castle, carrot, caterpillar, cupcake
Letter Dd - daisy, dolphin, dog, dinosaur, diamond, doctor, donut, duck, door, deer
Letter Ee - elephant, egg, elf, envelope, elevator, edge, eagle, easel, eel, Egypt
Letter Ff - fox, fish, farm, firetruck, fire, fairy, forest, fork, fan, foot
Letter Gg - gown, gold, goat, gift, goose, gate, gorilla, guitar, ghost, gumball machine
Letter Hh - hose, honey, helicopter, heart, harp, hammer, hamster, hamburger, hat, hay
Letter Ii - igloo, iguana, inchworm, insect, internet, idea, ice cream, island, iron, iceberg
Letter Jj - jet, jungle, jewel, jellybean, jelly, jar, jellyfish, jam, jacket, jigsaw puzzle
Letter Kk - kite, king, keyboard, key, kettle, kangaroo, kiwi, kitten, koala, ketchup
Letter Ll - lollipop, lion, library, lobster, lemon, lamp, ladybug, ladder, laptop, leaf
Letter Mm - mushroom, muffin, mountain, moon, mask, map, magnet, mask, mole, monkey
Letter Nn - notebook, net, nose, note, narwhal, nest, nail, nurse newspaper, necklace
Letter Oo - oval, olive, omelet, octopus, ostrich, octagon, ocean, otter, ox, old woman
Letter Pp - pyramid, popsicle, pumpkin, popcorn, pie, pear, pepper, pizza, pig, penguin
Letter Qq - quiver, quilt, question mark, quartz, queen, quail, quadrilaterals, quicksand, quetzal, quill
Letter Rr - rainbow, radio, ring, robot, rock, rocket, rose, ruler, rooster, river
Letter Ss - spider, sofa, snowman, sandwich, seal, seahorse, salad, saw, scissors, snake
Letter Tt - TV, tomato, tiger, taco, tie, tambourine, teddy bear, toast, toucan, toothbrush
Letter Uu - umbrella, ukulele, unicorn, UFO, unicycle, uniform, utensils, umpire, upstairs, upside down
Letter Vv - vulture, volcano, violin, vase, vacuum cleaner, van, vegetables, vinegar, vine, valley
Letter Ww - worm, witch, wing, well, web, watermelon, watch, wand, wave, wallet
Letter Xx - xylophone, x-ray, wax, tux, text, t-rex, sax, fax, box, lynx
Letter Yy - yolk, yogurt, yarn, yak, yacht, yam, yo-yo, yellow crayon, yoke, young person
Letter Zz - zookeeper, zoo, zombie, zebra, zipper, zinnia, zigzag, zeppelin, zero, zither
Font by: Kinder Pals (https://www.teacherspayteachers.com/Store/Kinder-Pals)
Printed worksheet: 20 pages each
Paper format: US LETTER SIZE

REMINDER:
This is a DIGITAL download.
Not a physical item.
Let us know if you have any questions or concerns.
Just message us here! :)
Follow us!
Report this resource to TPT
Standards
to see state-specific standards (only available in the US).
Demonstrate understanding of the organization and basic features of print.
Follow words from left to right, top to bottom, and page by page.
Recognize and name all upper- and lowercase letters of the alphabet.