Directed Drawing Art & Writing Activities + FREE Calendar with Father's Day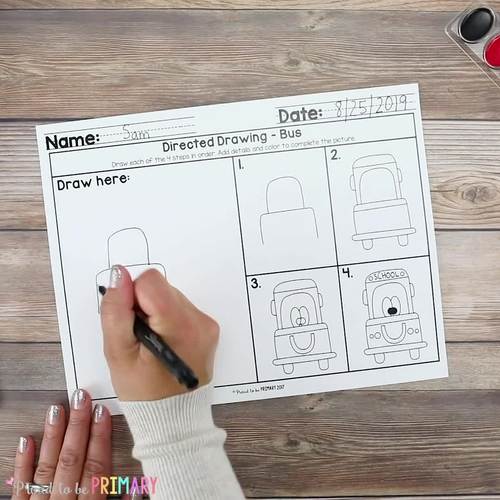 ;
What educators are saying
My students loved using this resource during workstations! They were completely engaged and enjoyed the resource tremendously. I have seen their skill flourish since using this product!
This helped my students develop their fine motor skills and confidence to draw. Loved that it was so age appropriate and super easy for them to follow. Thank you1
Products in this Bundle (11)
showing 1-5 of 11 products
Bonus
Directed Drawing Calendar Parent Gift [Years 2023-2025 + EDITABLE calendar]
Description
You will love this bundle of weekly directed drawings for the entire school year! Teach and build drawing skills and following directions with these versatile printable directed drawing and writing activities. This bundle includes 50 differentiated directed drawings covering seasons and holidays for beginning and developing artists in Kindergarten to 2nd grade.
Are you tired of searching for kid-friendly directed drawing activities that you can teach quickly and easily? This kid-approved, NO-PREP directed drawing resource is all you need to supply your art center or for your directed drawing lessons for an entire school year!
Teach one directed drawing each week using the differentiated Drawing Mats to build drawing skills. The different directed drawings can be used for your art lessons, independent drawing activities, or combined with seasonal writing.
Want to create the perfect keepsake or parent gifts? The Directed Drawing Calendar is NOW INCLUDED as a FREE BONUS for Directed Drawing Mat bundle owners! Buy the BUNDLE NOW and get 4 months FREE, plus a calendar!
Why YOU NEED Drawing Mats!
You will build confidence and ability through repeated drawing activities.
This resource saves you time as it is already ready for you!
This zero-prep, versatile resource is great for independent drawing practice, whole group lessons, sub-plans, morning work, art centers, online lessons, and more!
Drawing Mats are differentiated to meet the needs of your learners. With the different variations, there is something for all.
The drawings are fun to draw and chosen to keep interest high! The directed drawings are seasonal and include holidays that kids relate to.
Each directed drawing can be completed on the sheets provided or separately as a whole class art lesson.
Drawing Mats provide a lot of practice each week to help build drawing skills, following step-by-step instructions, and writing skills. Students can also color or paint their creations after drawing or write a story about the character they created.
What is included in each month of Drawing Mats!
There are many different variations included!
Students follow each of the 6 steps provided in order and draw in the space provided.
Students follow each of the 4 steps provided in order and draw in the space provided.
Read each step orally from the instruction sheet or cut the instruction sheet into 6 sheets and staple to create a booklet. Follow the instructions and draw on one of the 2 blank sheets provided or on your own choice of art paper.
Students complete their directed drawing in the empty space and write a story about their drawing. 3 different variations included (2 lines and 1 with lines and 6 steps to follow).
A cover page and extra writing sheets are included!
Look at the PREVIEW for a look at Drawing Mats up close, completed samples, and the variety of pages included!
Included directed draws each month:
September/Back to School Directed Drawings
Bus
Me (boy and girl self portrait)
Fire Engine
Apple Tree
Book Worm
October/Halloween Directed Drawings
Frankenstein
Spider
Bat
Haunted House
Jack O' Lantern
November/Fall Directed Drawings
Turkey
Scarecrow
Owl
Pilgrim
Veteran
December Directed Drawings
Santa
Gingerbread Man
Reindeer
Elf
Festive Christmas Tree
January/Winter Directed Drawings
Snowman
Polar Bear
Penguin
New Year's Baby
Snowflake
February Directed Drawings
Valentine's Day Heart Bear
Cupid
Groundhog
Tooth Fairy
Chinese Dragon
March Directed Drawings
St. Patrick's Day Leprechaun
(The Cat in the Hat) Seuss
Lion
Lamb
Rainbow
April/Spring Directed Drawings
Easter Bunny
Frog
Ladybug
Earth
Dinosaur
May/Spring Directed Drawings
Caterpillar
Butterfly
Mom (Mother's Day)
Chicken
Flower
June/Summer Directed Drawings
Bee
Sea Turtle
Whale
Dad (Father's Day)
Sandcastle
Teachers LOVE Drawing Mats!
⭐️⭐️⭐️⭐️⭐️ Tracy A. says, "My kindergarten kiddos always LOVE directed drawing activities, so these activities are a wonderful addition to my classroom! I believe directed drawing activities offer opportunities that build confidence in my students of their abilities and skills! After several directed drawing experiences, I see reluctant artists transform into eager artists! This excitement and confidence transfers into their independent drawing, as well. I also LOVE that this resource incorporates writing with the drawings! My students are always motivated to write about their illustrations! I am very pleased with this purchase. :)"
⭐️⭐️⭐️⭐️⭐️ Tonisha J. says, "One of my favorite resources to use in the classroom. My students think this is a reward because it's so much fun. Thank you."
⭐️⭐️⭐️⭐️⭐️ Julianne E. says, "My kids LOVED this! They would get so excited when it was directed drawing time. They enjoyed learning how to draw different things that matched whatever theme we had at the time! Great resource!!"
Related Products
Alpha-Draw Directed Drawing Pack
You can view all of my monthly mat products HERE!
Try the SEL program that is needed in ALL classrooms!
mind+heart Social Emotional Learning curriculum for K-2
mind+heart Social Emotional Learning curriculum for 3-5
Popular Bundles by Proud to be Primary:
Stay connected with Proud to be Primary
♥Click HERE to follow our store and receive notifications of new product releases, sales, and freebies.
♥Join our email list and get weekly teacher tip emails and access to our FREE resource library.
♥Visit our website at Proud to be Primary for tons of engaging ideas for teaching kids in the classroom!
♥Join our FREE Facebook group and connect with thousands PROUD primary teachers like yourself.
Have questions?
Please ask all questions before purchasing or email me at elyse@proudtobeprimary.com.
Terms of Use: This product is licensed for personal classroom use ONLY unless multiple licenses are purchased. Your purchase grants you a license to use in a secure, password-protected online platform (such as Google Classroom) with your students only. You may not transfer or share with another teacher or use for commercial purposes (Outschool, etc.).
©2013 to Present - Proud to be Primary - Elyse Rycroft
Report this resource to TPT