Directed Drawings for Kids Yearlong BUNDLE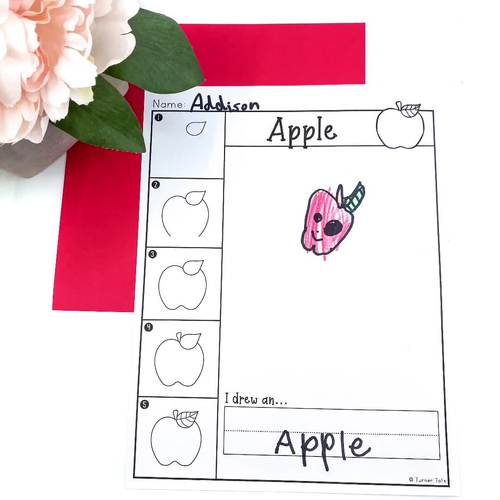 ;
What educators are saying
LOVE these! We do one a month and my students are always excited to see what we will create next. Thank you!!
Every week we do a guided drawing activity. Once they learned the concept, I put it in our art center! The kids love it!
Products in this Bundle (12)
showing 1-5 of 12 products
Description
Teach your preschoolers how to draw without a teacher with these directed drawings for the entire year! Each month has fresh new themes full of exciting guided drawings, making it easy for your students to have fun while honing their drawing and writing skills.
Each directed drawing is accompanied by five simple-to-follow steps, using basic lines and shapes that make them ideal for preschoolers or kindergarteners. Students can learn how to draw a picture, color it in, and label the picture at the bottom, which also helps with letter formation practice. This bundle is perfectly suited for use in both the art center and writing center, keeping things new and exciting throughout the entire year!
Transform any classroom into a place of creativity with this one-of-a-kind directed drawings yearlong bundle. Get ready to watch your little learners blossom into budding artists in no time!
Here's what you'll get (in black & white only):
My Portfolio cover for Directed Drawings
January directed drawings (snowman, snowflake, mitten, polar bear, igloo, puffin, mouse, lamb, teapot, truck, screwdriver, hard hat)
February directed drawings (skull, tooth, lungs, teddy bear, hearts, cupcake, car, train, helicopter, planet, astronaut, rocket)
March directed drawings (cloud, rainbow, sun, umbrella, kite, bird, duck, fish, frog, dog, cat, fishbowl)
April directed drawings (flower, watering can, seeds, Triceratops, volcano, dinosaur, Earth, heart tree, recycle bin, ladybug, butterfly, ant)
May directed drawings (zebra, bear, flamingo, tent, s'more, sleeping bag, jellyfish, shark, crab, bee, hive, honey)
June directed drawings (king, castle, shield, troll, wolf, wand, harp, goose, magic beans, horse, cowboy hat, bull)
July directed drawings (Lincoln, flag, eagle, ice cream, beach ball, watermelon, monkey, snake, gorilla, cactus, camel, jackrabbit)
August directed drawings (magnifying glass, treasure chest, map, guitar, stereo, horn, crayon, ABC blocks, book, pencil, glue, notebook)
September directed drawings (myself, baby, house, hand, tongue, megaphone, apple, tree, blossom, leaf, pumpkin, acorn)
October directed drawings (barn, cow, hen, mailbox, police officer, fire truck, bat, owl, raccoon, candy, witch, spider)
November directed drawings (swing, basketball, magnet, strawberry, carrot, sandwich, turkey, pie, Pilgrim hat)
December directed drawings (dreidel, candles, poinsettia, elf, reindeer, gift, party hat, firework, balloon)
___________________________________
Copyright © Turner Tots.
Permission to copy for single classroom use only.
Please purchase additional licenses if you intend to share this product.
Answer Key
Does not apply
Report this resource to TPT