Distance Learning Apraxia & Articulation digital CVCV & CVCVCV! No print No Prep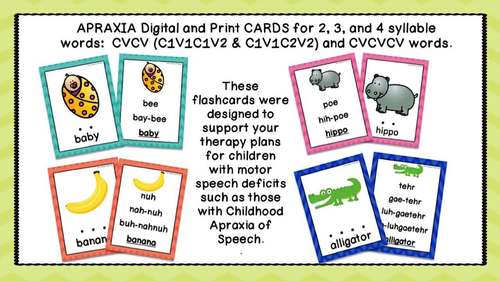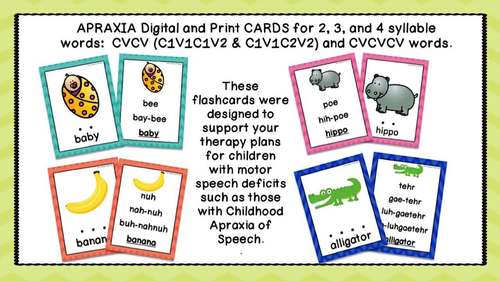 Created By
A Gift of Speech
You can add an interactive layer to this PDF and assign it to your students through Google Classroom.
Learn more
Also included in:
This bundle includes our digital Apraxia cards as well as our new print flash cards. These decks include cvcv, c1v1c1v2, c1v1c2v2, CVCVCV and 4 syllable words/phrases. These cards are a great resource for supporting your kiddos with Childhood Apraxia of Speech or articulation disorders. Get these
Product Description

Standards
Apraxia and articulation digital flashcards for CVCV (C1V1C2V2, C1V1C1V2), CVCVCV and 4 syllable words with backward chaining models. Perfect for distance learning.
BOOM CARD VERSION on its way! These flashcards were designed to support your therapy plans for children with motor speech deficits such as those with Childhood Apraxia of Speech. They can be used on iPad's, computers, Chromebooks, and interactive white boards.
We have included a prompt hierarchy to support instruction and acquisition.
See the post on using Principles of Motor Learning for CAS at A Gift of Speech Blog for further information and ideas incorporating a motor planning approach.
These cards were designed with the word/syllable support as well as a backward chaining model. The spelling for the backward chaining cards were designed to support correct production, giving models for syllables "as they sound" (phonetic/phonemic spelling). A page with vowel spelling examples has been included.
We hope this product supports your therapy plans and activities.
Keep Talking 1 Expanding Utterances and Building Language
FREEBIES
FREE Expanding Utterances and Building Language Hierarchy
FREE Expanding Utterances and Building Language Sentence Guide
Log in
to see state-specific standards (only available in the US).
Use frequently occurring nouns and verbs.
Speak audibly and express thoughts, feelings, and ideas clearly.
Report this Resource to TpT