Distance Learning Family and Student Guide | DIGITAL ETIQUETTE Virtual Classroom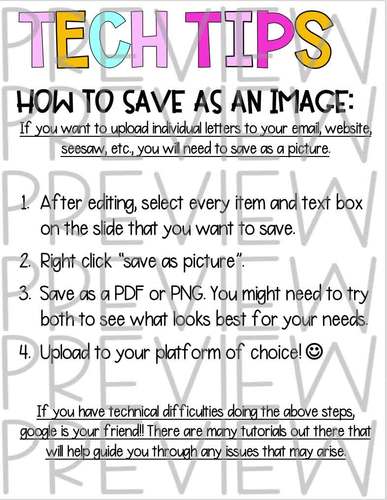 ;
PreK - 5

th
,
Adult Education
,
Homeschool
,
Staff
What educators are saying
I love building a distance learning packet for the start of each year. This great resource is included in the packet. Having multiple distance learning platforms is extremely helpful.
Such a great visual resource to use with students and their families during remote learning! I would definitely use this again!
Description
OMGGGGG THIS IS If you purchased on or before 8/22, please re-download to get the updates!!! Thank you SO much for leaving an accurate review based on the current updates. I hope you enjoy! :))
✨Check out my Bundle of my ESSENTIAL DISTANCE LEARNING RESOURCES✨
✨PAIRS PERFECTLY WITH MY DISTANCE LEARNING BINDERS!! ✨
Send this letter home to families to help guide them in connecting through ZOOM video chatting.
I've made this based off of specific issues I continued to have with my students while teaching digitally. I made a word-based option for families, and a visual option for students to follow.
This can be used while learning to teach/learn during the current COVID-19 school shutdowns, but also BEYOND for online classes, homeschooling, tutoring, summer school, check-ins over school breaks, and any type of distance learning!
Wording options (CLICK FOR INDIVIDUAL LINKS)
DISTANCE LEARNING (currently only available in this bundle
ZOOM (<--- CLICK IF YOU'RE LOOKING FOR MY ORIGINAL ZOOM RESOURCE)
BONUS 2 english/spanish student letters w/o dot dude clipart or wording so you can add your own words and images!
Included:

EDITABLE powerpoint file
PDF file of every letter
Individual PDF files of each letter
Individual PNG files of each letter
Font and editing guides
Each wording includes:

English family letter
English student letter
Spanish family letter
Spanish student letter
- my district has already changed our online learning platform about 247473829 times idk about you. So with this single resource purchase you will be covered for ANY digital platform you may use in the future!!

✨ ✨ ✨ ✨ ✨ ✨ ✨ ✨ ✨ ✨ ✨ ✨ ✨ ✨ ✨ ✨ ✨ ✨ ✨ ✨ ✨ ✨ ✨ ✨ ✨ ✨ ✨ ✨ ✨ ✨
⭐ HOW TO EARN TPT CREDITS TO GET FREE MONEY ⭐
Click on your account
Click "My Purchases"
Under each resource name, click the GREEN "Leave a Review"
You will be sent to the resource page
Scroll down until you see the green, "Leave a Review" Button
Select the way that you used this resource
Rate on the 5-star scale:
⭐ The WORST resource you've ever purchased
⭐⭐ Just TERRIBLE!
⭐⭐⭐ A LOT OF ISSUES with the resource
⭐⭐⭐⭐ MANY ISSUES with the resource
⭐⭐⭐⭐⭐ SATISFIED, with the resource
⛔⛔ STOP ⛔⛔
Please read before leaving a review!
If you:
have a question
have a concern
are experiencing technical difficulties
need help
are disappointed because you missed something important in the description
wish something would be added or changed to the resource
PLEASE use the "Ask a Question" feature, or send me an email at glitterandhummus@gmail.com BEFORE leaving your review. Thank you SO much for being considerate when leaving a review. Ratings affect a store's ability to make future sales, and a negative review based on one of the above bullet points can be misleading to future buyers.
✨ ✨ ✨ ✨ ✨ ✨ ✨ ✨ ✨ ✨ ✨ ✨ ✨ ✨ ✨ ✨ ✨ ✨ ✨ ✨ ✨ ✨ ✨ ✨ ✨ ✨ ✨ ✨ ✨ ✨
Your feedback means the WORLD to me! Please e-mail me at glitterandhummus@gmail.com or Ask me a Question with any comments or concerns. We will get your problem resolved in a snap! :)
✨ ✨ ✨ ✨ ✨ ✨ ✨ ✨ ✨ ✨ ✨ ✨ ✨ ✨ ✨ ✨ ✨ ✨ ✨ ✨ ✨ ✨ ✨ ✨ ✨ ✨ ✨ ✨ ✨ ✨

For updates on new resources, make sure to click the green "Follow" button, and scan the QR code on the left side of my shop to follow me on Instagram @glitterandhummus
Key words: Zoom etiquette, zoom rules, how to zoom, distance learning guide, distance learning rules, zoom class rules, zoom instructions, zoom directions, video guide, homeschool, homeschooling, zoom expectations, expectations, classroom management, zoom guide, google meet guide, google meet rules, google meet etiquette, google meet management, google meet expectations, google duo, duo, duo expectations, duo guide, duo rules, google hangout, hangout, google expectations, google hangout expectations, google rules, google hangout rules, meeting rules, meeting expectations, meeting etiquette, skype rules, skype expectations, skype guide, skype expectations, skype etiquette, slack expectations, slack etiquette, slack video rules, slack video, slack, webex rules, webex expectations, webex etiquette, webex
Report this resource to TPT